---
Posts: 427
Joined: Tue Aug 19, 2003 11:18 am
Location: Dublin
---
Old Master
Posts: 5417
Joined: Wed Mar 03, 1999 12:00 am
Location: Monaghan
---
Bit disappointing this year. Entries are all a bit dull and uninspired. Out of them, I'd pick Eric Parry Architects, with Richard Roger's Winery in second place.
However I can't think off the top of my head any other building completed in the UK in recent months which really blew me away.
Edit: I do really like the Information Centre near St Paul's by Make Architects.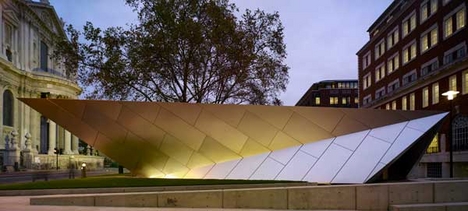 Member
Posts: 163
Joined: Tue Feb 14, 2006 3:21 pm
Location: London (Orignally Dublin)
---
Stirling Prize 2009: is Gherkin architecture a thing of the past?

The Stirling Prize is always a litmus test of the state of British architecture. What does this year's shortlist tell us? That after years of showstoppers, things are getting quieter. The buildings judged were completed last year, before the full effects of the recession - which has hit architects worse than any other sector - could be felt. Even so, how few creep over the bar into excellence!

Maggie's Cancer Care Centre in West London by Prince Charles's favourite architects, Rogers Stirk Harbour & Partners, is in those few, a real gem.The late Maggie Jencks's string of architecturally inspirational centres were created after personal experience of the NHS "system", to put the human back into health care. The latest buildings, though, by big name acts like Zaha Hadid and Frank Gehry, had lost modesty in favour of headline-grabbing showiness. Rogers's, though, is, a return to core values, an elegant home from home, delicate and soothing, like a Japanese pavilion. The Fuglsang Art Gallery is another jewel, by Tony Fretton, so ignored at home that he has to work abroad.

Liverpool One is the best example of urban renaissance since Manchester's, even if it lacks gems. Richard Rogers continues his recent successful Stirling Prize run (he won in 2006 with Madrid's airport terminal) with Protos winery in Spain - that rare thing, a pretty factory. What about Eric Parry's 5 Aldermanbury? Elegant. Solid. A good egg, as is AHMM's Kentish Town Health Centre. AHMM nearly won last year with their Westminster Academy, proof that a decade of government investment in the state building was finally bearing fruit. It's tough to build economical City skyscrapers and NHS health centres that are anything but mundane. But great?

So is the age of the iconic building, such as the Gherkin, really over in Britain? Maybe. And maybe good riddance. For every great recent icon - the London Eye, the Eden project, the Gherkin- dozens of monsters have been built during the economic boom. Perhaps it's better to have a country of good ordinary buildings, like health centres, than magnificent exceptions. But I miss them! And, with public and private spending shrivelling away, the danger is, in years to come we'll get the worst of all worlds - modest architecture, cheaply built.

Tom Dyckhoff is on the jury that selects the Stirling Prize shortlist

http://www.timesonline.co.uk/tol/news/uk/article6723761.ece
It is quite clear civic architecture is far more likely to provide winners this year and next; 2011 who knows?
PVC King
---
---