Okay, so I'm being somewhat mean. The miserable image on the first page is what it's usually like - albeit when it feels like it. I know it's something of a national pastime to rant about what was and was not achieved during the boom years, but it really is quite extraordinary that the two most famous icons of the city, the Four Courts and the Custom House, remain resolutely stuck in the 1980s when it comes to floodlighting. Indeed, remarkably, the Four Courts has
never
had a tailor-made floodlighting scheme of any kind in its history, while the Custom House's, though comprehensive, is outdated, high maintenance, in parts poorly designed, and decaying.
Illuminated by pairs of sodium floods attached to the lampposts along the quay, the proximity of the Custom House's lamps to the facade results in unsightly 'hotspots', while the predictable orange glow is murky and indistinguishable from the light cast by virtually every lamppost in the city. This is counter-productive to the entire point of floodlighting buildings in the first place. The floods are also constantly blown, flickering or randomly switched on or off.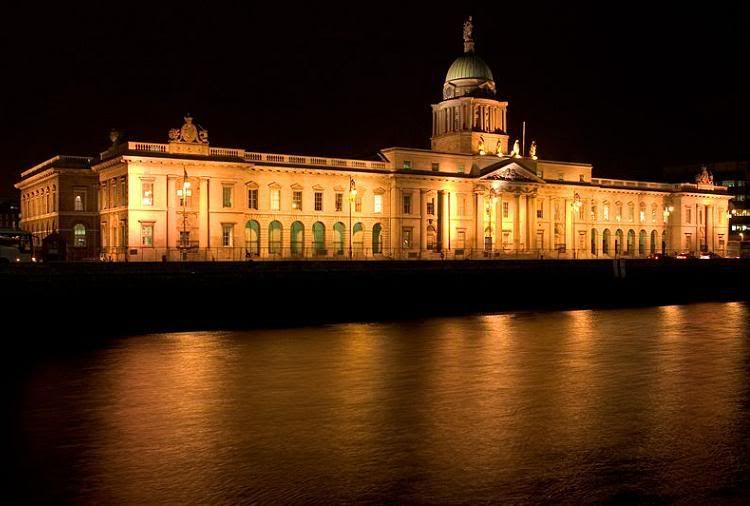 © Jimmy Harris
The finicky lighting of the pediment is also too contrived on a monumental facade (and nearly always half blown, as above), and the illumination of the drum and dome is paltry, lending nothing to its scenic qualities after dark. The statues likewise. The other elevations are more successful as the light is spread more evenly, but again the colour temperature and poor maintenance generates unflattering results.
If there's a saving grace about the Four Courts' miserbale effort, it is that the faint watery light cast about the drum has an effortful quality, giving the impression of it being a fruitless exercise trying to illuminate something so great, magnifying its monumental quality. However, the same can be said of much more powerful schemes, such as the lighting of the Capitol drum and dome in Washington, where distant floods convey a similar impression of greatness. The drum of the Four Courts is ideally placed to be expertly illuminated, as with the Custom House's, in pure white light, from lamps positioned around its base on the rooftop. Positioned close to the base of the drum, these would project a soft, gentle light upwards, spread perfectly evenly around its curved facade. This would emphasise its famous lantern-like quality, floating serenely above the city.
Its riverfront facade is considerably more difficult given the constraints of the narrow quay. However, a scheme along the lines of the new lighting arrangement at St. George's Church could prove a solution, where powerful floods are sunk flush into the adjacent pavement, generating a soft but potent illumination. Subtle back-lighting of the columns in the entrance apse would highlight this important central section of the building. And a big no-no to naff pediment strip lighting!
Of course all of this could be achieved using the very latest in energy-efficient, low maintenance LED lighting systems and equivalents. It's a shame there's no co-ordinated approach to floodlighting amongst state buildings in Dublin, never mind across public buildings at large in the city. Other buildings crying out for imaginative lighting treatment include the National Museum and National Library elevations on the near-pitch black Kildare Street, Iveagh House and the Rotunda, to list but a few. City Hall is the best we have: testament to what can be achieved with a properly designed lighting scheme.
Old Master
Posts: 4579
Joined: Tue Oct 15, 2002 10:24 am
Location: Ireland
---
"it's something of a national pastime to rant about what was and was not achieved during the boom years, but it really is quite extraordinary that the two most famous icons of the city, the Four Courts and the Custom House"

Have to say Graham, floodlighting of these two buildings would certinally not be top of my to do list, perhaps if in the boom times, we had really knocked some heads and got all the important things done, a working public transport system, some high density (high-rise) urban development, etc, them maybe we could talk about the lighting, but now it just seems a bit superfluous.
Member
Posts: 230
Joined: Sun Jun 29, 2008 12:48 pm
---
I would actually contend that until the existing schemes are replaced with low-energy systems, that they be turned off as an example of bad energy usage.
Old Master
Posts: 5417
Joined: Wed Mar 03, 1999 12:00 am
Location: Monaghan
---
Agreed to be honest. They yield such poor returns for the amount of energy consumed that they're really not worth it. Indeed as I type, a giant image of a dankly lit Four Courts is being used as a giant picture grab on the Nine news - what an embarrassment! Enough!
Agreed, spoilsport, to an extent in respect of new floodlighting schemes - obviously if money is tight, it's not a high priority in the scale of things, especially when even maintaining joinery is generally a tall order in these parts. But frankly, for something as fundamental as basic illumination of two of the city's flagship buildings, one would half to question what we consider to be of importance in the wider presentation of the capital. The privately owned Bank of Ireland on College Green puts virtually all state buildings to shame in Dublin in respect of floodlighting. Even semi-public institutions such as Trinity College are disgracefully presented, in spite of having things handed to them on a plate in terms of conveniency of illumination, with a railed and grassed forecourt in that particular case.
Ideally the cash-laden ESB would spearhead such a campaign, as much as an advancement of energy efficiency in public lighting, as improving after-dark aesthetics for its colleagues in the state sector.
I found Buckingham Palace's new LED scheme elegant and understated last year.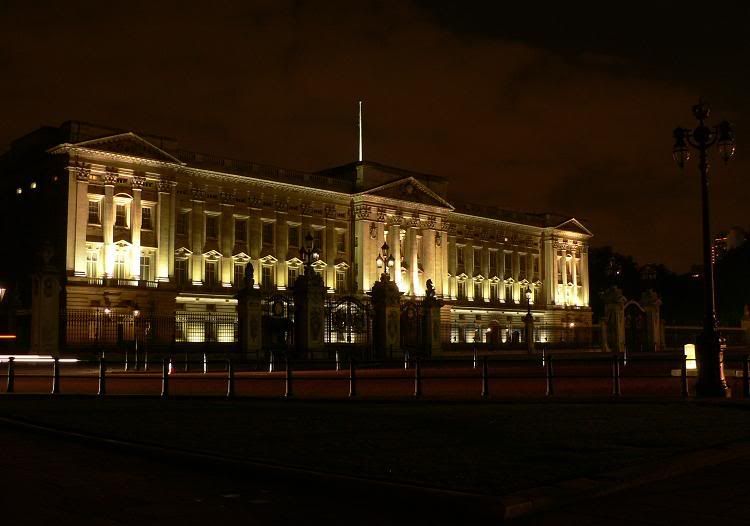 A different white balance gives an idea of an alternative colour option.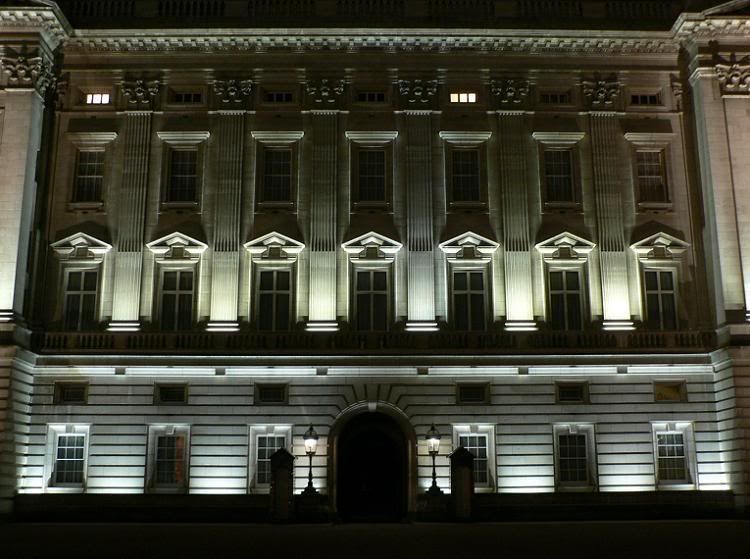 Old Master
Posts: 4579
Joined: Tue Oct 15, 2002 10:24 am
Location: Ireland
---
21/3/2011
Just seeing the Palace above, I read recently that the entire East Front's LED lighting scheme by Phillips consumes the same amount of power as a domestic kettle - about 2000w. By any yardstick a remarkable achievement!
This thread seems to have a focus on floodlighting, so perhaps it is appropriate that the buildings illuminated in green for St. Patrick's Day go here. It was a great inititive by the Festival organisers and participants that worked to often stunning effect.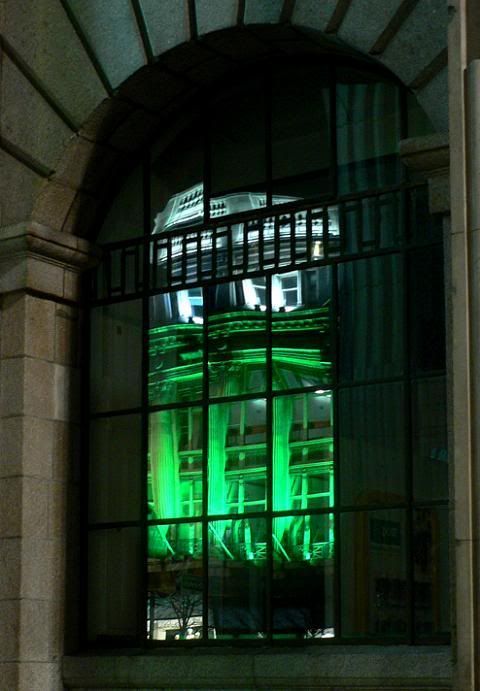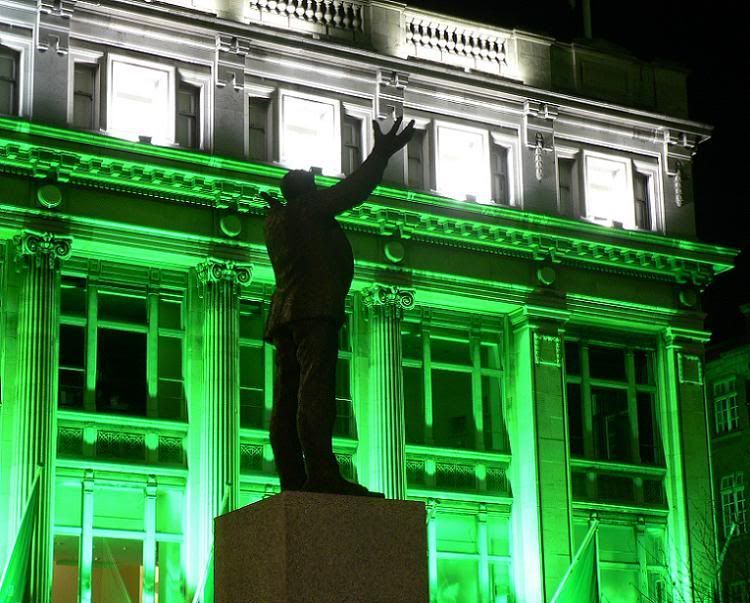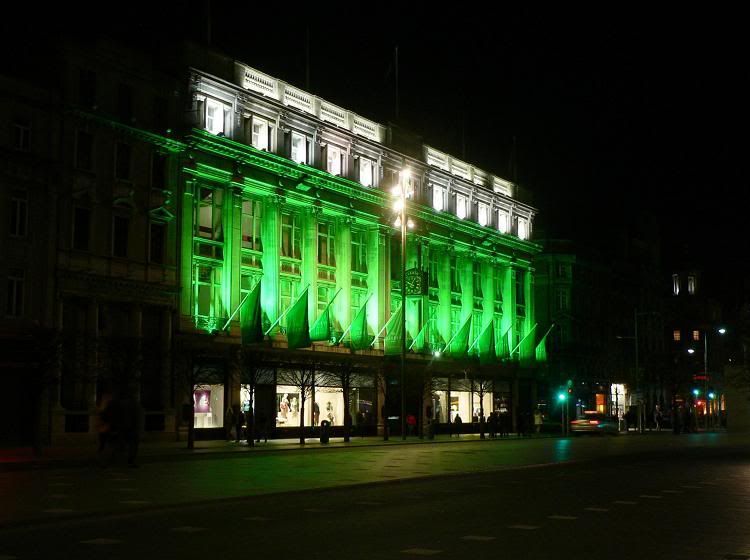 Clerys looked magnificent for once - its usual haphazard array of differently coloured floods unified by a veil of green gels.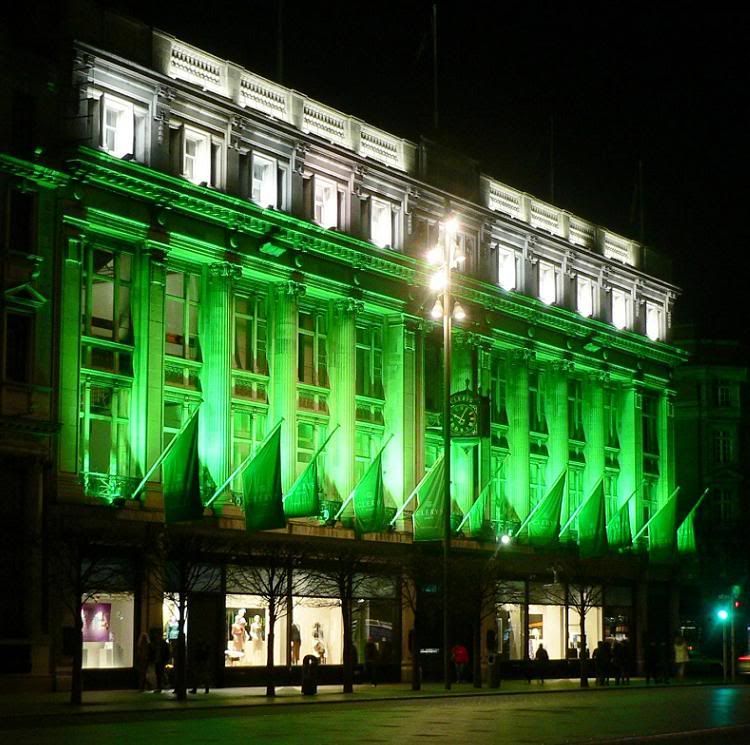 Shame about the various blown strips above. Still, the contrast of the green neatly catching the cornice and the crisp white above was wonderful.
City Hall.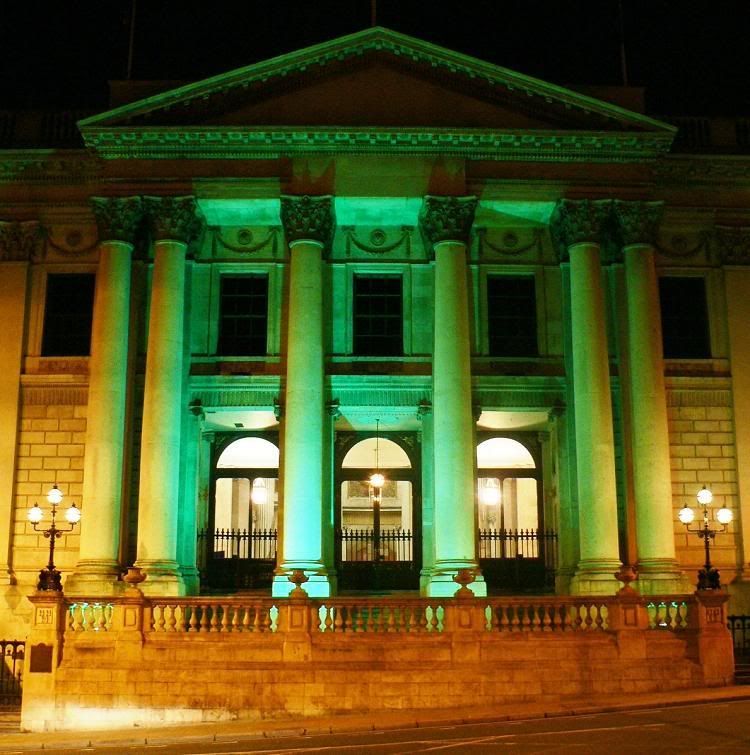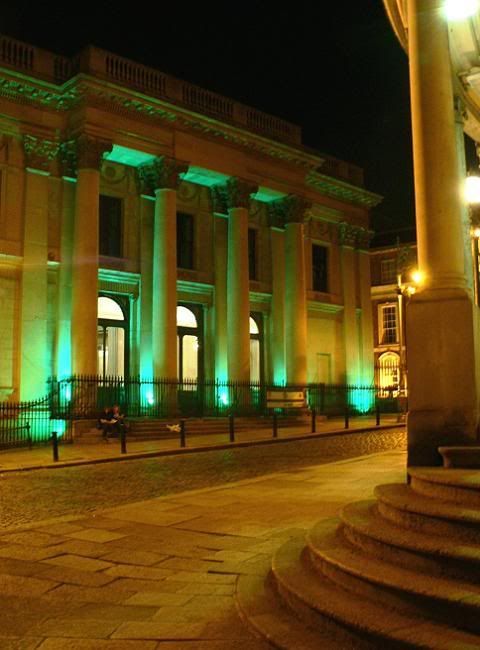 At long last the opportunity was also taken to replace bulbs that were blown for as long as I can remember. The handsome institutional lamp standards of the Rates Office opposite were also repaired.
Bulbs were also replaced on Penneys as part of this project. We really should do this more often!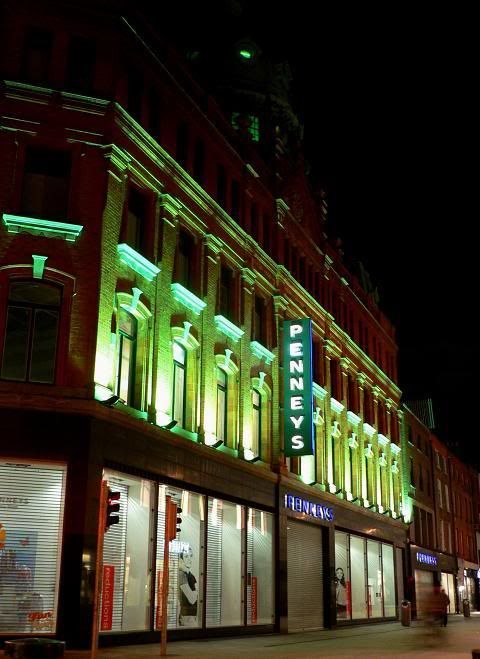 Without question this is one of the most elegant lighting schemes in the city, mounted above the best contemporary shopfront in the city. An example of magnificent presentation and maintenance of a flagship historic property - again arguably the best case of its kind in Dublin. The green lighting doesn't do justice to the elegance of this floodlighting scheme after dark. It's so refined in soft white light.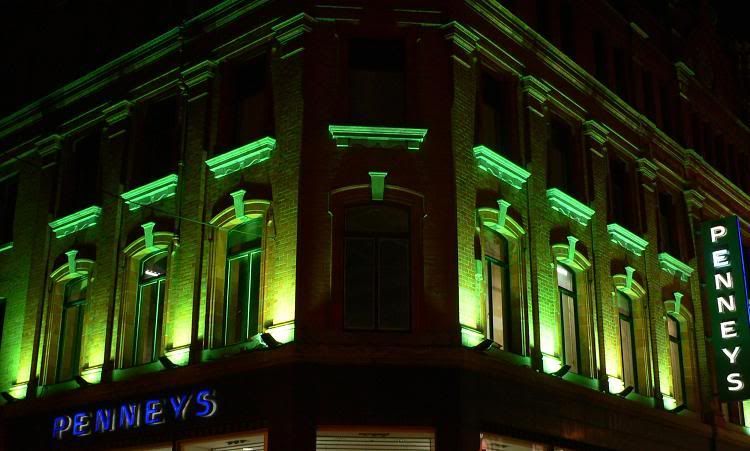 Guinness's beautiful Regency composition on James's Street is permanently illuminated in green, which unfortunately is distinctly naff for most of the year. At least it was relevant for a few days.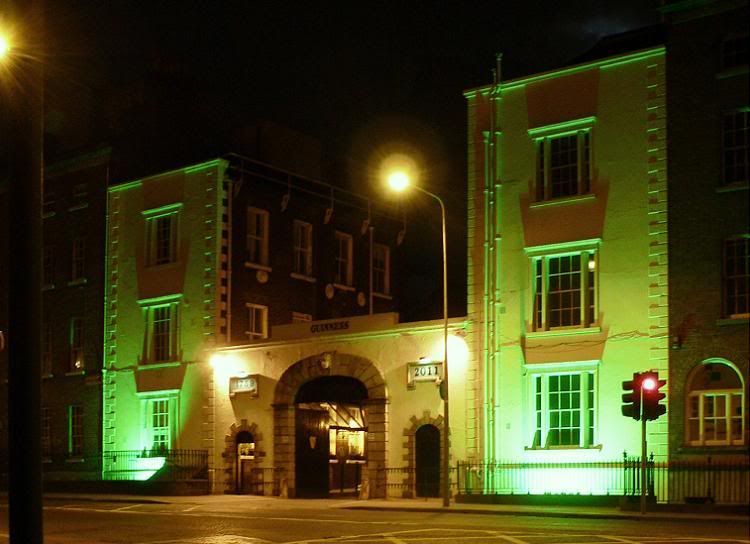 We'll talk about other recent interventions here another day...
Last edited by
GrahamH
on Tue Mar 22, 2011 12:50 am, edited 3 times in total.
Old Master
Posts: 4579
Joined: Tue Oct 15, 2002 10:24 am
Location: Ireland
---
Another of the most successful illuminations was the stunning transformation of St. Patrick's Cathedral, shown here courtesy of flickr's 1soanes. Alas it was after midnight by the time I got there and the lights had been turned off!
http://www.flickr.com/photos/1soanes/5534393624/
The fairly new floodlighting of the cathedral is an exemplary scheme. A beautiful exercise in subtlety.
Interestingly, for the first time in many years Phase I of the IFSC's lighting has been made operational once more. Early 90s kitsch makes a return to the city!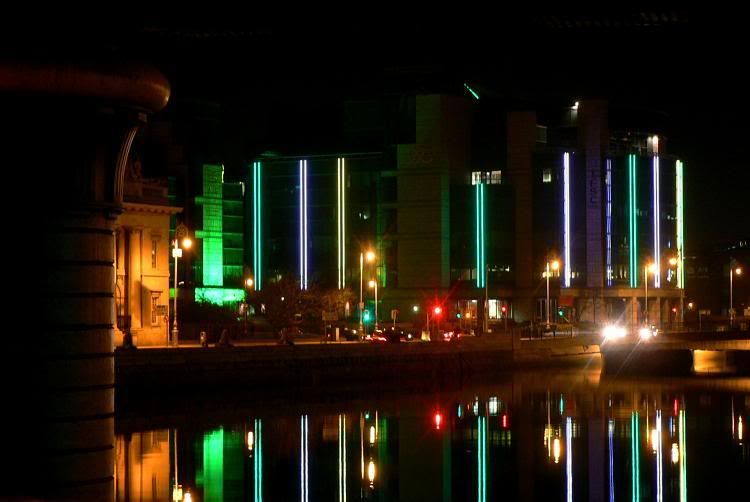 It makes a disconcertingly compatible partner to the Emperor's New Clothes abomination that is the Conference Centre.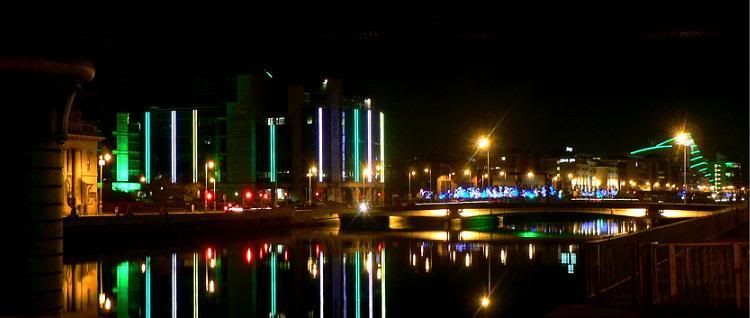 Oh and not forgetting the Custom House with, oh, em, er… well, no surprises here anyway.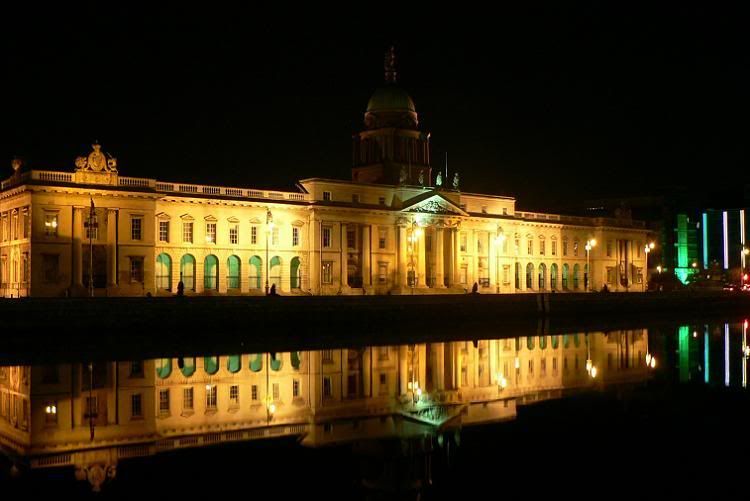 What a shambles.
Old Master
Posts: 4579
Joined: Tue Oct 15, 2002 10:24 am
Location: Ireland
---
God, I had forgotten there was lighting on the IFSC stage 1
Old Master
Posts: 5417
Joined: Wed Mar 03, 1999 12:00 am
Location: Monaghan
---
LOL!

Don't run down early nineties kitsch - it paved the way for other things...

And lets face it, floodlighting a masonry building is hardly news...

Especially when its done as unevenly as the Customs House...

ONQ.
Old Master
Posts: 1220
Joined: Mon May 11, 2009 11:29 pm
Location: Dublin, Ireland
---
Senior Member
Posts: 831
Joined: Thu Oct 09, 2003 1:47 pm
Location: Áth Cliath
---
Smart scenes there Morlan.

Agreed on IFSC - I never even knew it had such strip lighting! The elegant downlighters atop the glass fins were always used until recently. Nobody's denigrating the scheme onq! (well, not yet anyway). I'm rather liking the glitz of it all. Think Jacob's Television Awards c. 1989.
Old Master
Posts: 4579
Joined: Tue Oct 15, 2002 10:24 am
Location: Ireland
---
Old Master
Posts: 1794
Joined: Sat Dec 08, 2007 6:53 pm
---
---