We live in a country where our cities are largely built of brick, particularly Dublin, yet there is rarely discussion on the nature of the material and its applications, unlike stone or timber. Perhaps we can change that.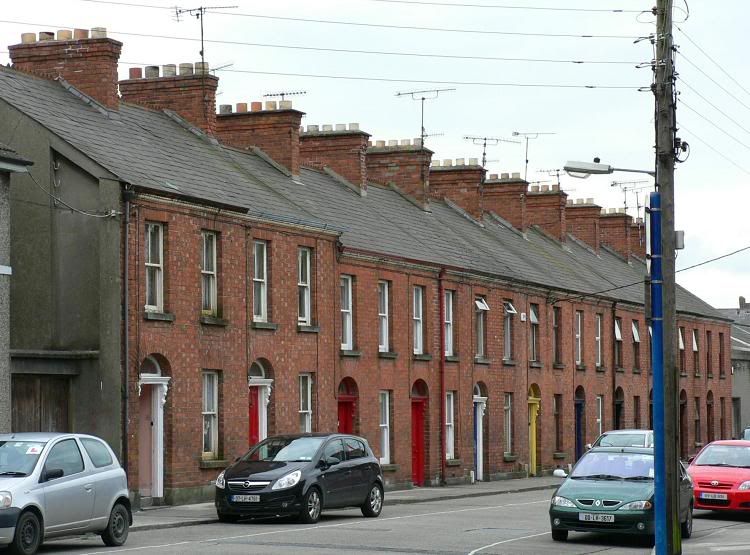 gunter wrote:Restoration:

''Representation of original form, or appearance''

Peter, I think this term is perfectly applicable in this case. As far as I know, it was standard practice in the 19th century for facades constructed in yellow stock brick to be pointed up in red dyed mortar, presumably in a very reasonable attempt to match the appearance of the predominant brick finish in the adjoining streetscape.

Without having examined the Capel Street building in detail, and leaving aside my own entirely justified dislike of inferior, second rate, buff coloured brickwork, I took it that the architect in this instance had done his research, found that this was indeed the case, and courageously specified and oversaw a magnificent piece of conservation/restoration.

I know this sounds a bit like 'everyone's out of step but my Johnny', but I thinks that this is actually the case here. To properly restore the unity of the terrace, it's the other buildings that need to get their act together, this guy has shown the way.

This is the only example of original red mortar in use on yellow stock brick that I have to hand, and it comes from a bit later in the 19th century, but I'll keep an eye open for better examples if we're heading into a full blown disagreement on this.
To pick up on this discussion on the dying/colour-washing of brick from the Dublin shopfront thread, what is critically being missed here is that historic yellow brick in principal facades became popular mainly as a result of fashion, not because it was cheaper. Indeed the very fact that its popularity increased at a time when red brick making had refined itself considerably by the late 18th century, speaks volumes of how yellow brick was considered as a fashionable facing material, particularly for the first third of the 19th century. The Wide Streets Commission terrace on D'Olier Street stands as a monument to the change in fashion from red brick in the 1790s to yellow brick by the turn of 1800 (although at that point they were on a par).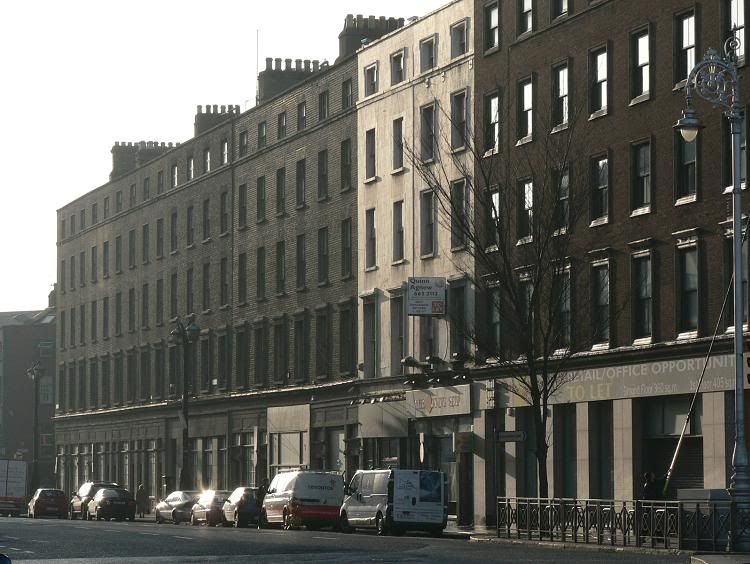 Therefore, in any conservation work, it is essential that a yellow brick façade which was originally intended as a yellow brick façade, be restored/conserved as a yellow brick façade. It's a simple as that. It was absolutely not standard practice for a building to be built of yellow brick and immediately dyed red – common yes, standard, most certainly not. Dying took a leap forward in the mid-19th century as a result of the emergence of machine-made red brick, as seen at Dartmouth Square below, and across Victorian suburbs.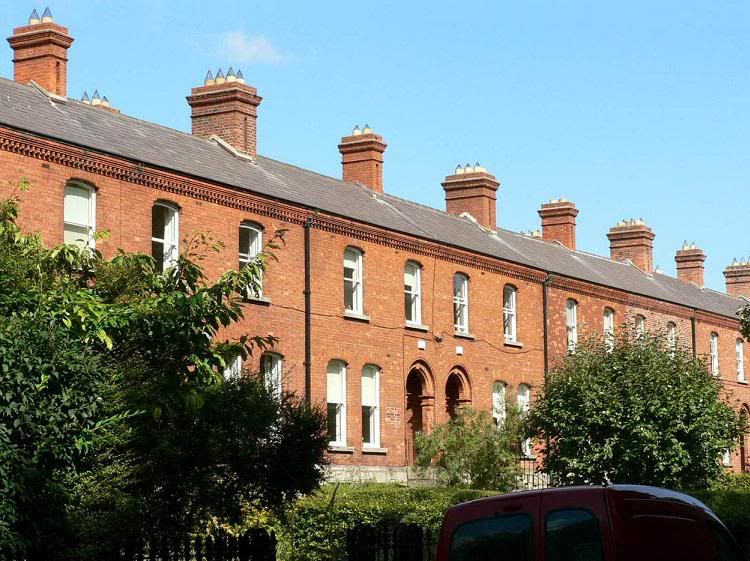 This resulted in the upper middle classes having heart failure at the prospect of living in a yellow brick house, prompting them to have it dyed Venetian Red or similar. This was a
modification
, not an original design intention. If a building has a covering of colourwash surviving today, it is nearly always decayed, prompting a conservation dilemma. As a rule of thumb, if the building is located in an otherwise uniform terrace, where the colourwash was a later addition, it should be removed. If the building is not part of a wider architectural entity, it should remain.
Devin wrote:
To be honest I am baffled as to how anybody can support the dying red of a thin sliver of a building in a otherwise perfectly intact yellow brick terrace! Even if there were fragments of a red dye (which there almost certainly were not) these should have been removed.