irishguy wrote:Does anyone know what the plans are for george reynolds flats in ringsend. Just passed there and it looks like they are knocking them all down.

I hadn't heard what the plans were, but this is a photograph of that stretch of Irishtown Road showing the original terrace of cottages on the site before the flats were constructed.
Lawless's shop, previously Robinson's, is unchanged on the left.
Old Master
Posts: 1905
Joined: Wed Jan 16, 2008 9:33 pm
Location: Dublin
---
gunter wrote:On 11 - 13 Bath Street, (Reg. no. 3285/08) the Additional Information went back in on 17 Dec.

The proposal is to demolish these two houses and basically build two replacement houses in a broadly similar style.
This happens all the time in Irish towns and villages. Good vernacular buildings are replaced by sterile hollow-block versions of themselves. Example from Carlow Town:
:-(
Old Master
Posts: 1509
Joined: Fri Dec 12, 2003 9:27 pm
Location: Dublin
---
the souped up Honda and the Velux windowed muck replacing an historic building - could there be a better picture of Irish Culture 2009?
Senior Member
Posts: 975
Joined: Sun Sep 03, 2006 8:33 pm
---
gunter- I noticed this morning as I cycled past that the house to the left of your forlorn pair (No. 9 Bath Street?) had workmen buzzing around. Not sure if it's related to the proposed works next door. Might try and get a snap in the morning.
Old Master
Posts: 1949
Joined: Fri Apr 01, 2005 2:39 pm
Location: Dublin
---
Thanks for that ctesiphon.
I was kinda hoping the recession would take care of this.
I think I posted a copy of an 1830s map of Irishtown which was a bit inconclusive on nos. 11 & 13 in that it apeared to show the area between the rear returns filled in and we couldn't be sure if this reflected an original ground floor extension (graham) or the present 19th century extension (gunter). In this regard, there could be some more clues to the date/original layout of these houses in that great
Fitzwilliam Estate Map
of 1760 which is reproduced in McCullough. The north-east extremity of the map seems to include Ringsend and Irishown, but unfortunately, as reproduced, the page margin cuts this off!.
Apparently the Architectural Archive on Merrion Square have a copy of this map and the National Archives in Bishop Street have the original, . . . . . bit of a toss-up there to decide which is likely to be the least helpful, publicly funded, national heritage repository, and the least fruitful source for a quick digital snap!
Old Master
Posts: 1905
Joined: Wed Jan 16, 2008 9:33 pm
Location: Dublin
---
Well I had the camera in the bag this morning, but when I took it out for a photo there was a 'Memory Card Error', so the snap wasn't possible. However, I did stop for a look. There's a big skip outside Nos. 11-13 full of builders' rubble, which seems to be coming from No.9 (or is it No. 15?), and a sign on that house giving details of the building company. I think the name was Buto? Anyway, I'll keep an eye on it as it's recently become part of my morning commute (except when it's very windy and I take Park Avenue instead of the coast road).

Good luck with the map.
Old Master
Posts: 1949
Joined: Fri Apr 01, 2005 2:39 pm
Location: Dublin
---
This is a very difficult time for architects and the Arts Council recognises the particularly acute, current need to support them in their work practices. We are delighted that Orla Murphy is the recipient of this year's award. Orla will be researching the potential of architecture to enhance the experience of living, working and playing in the 21 century Irish town'.

Any Irish town or the Irish town?:D
Old Master
Posts: 1794
Joined: Sat Dec 08, 2007 6:53 pm
---
What an enchanting place Irishtown is on a summer's evening; Bath Street in particular. The relative absence of traffic and people serves to enhance its valley of the squinting windows quality: one of those rare breeds in Ireland, so commonplace in England, of eerie intimate village streets, packed to the rafters like a 1950s provisions store with a mixumgatherum of vernacular buildings, so small and relatively undisturbed as to make it feel like trespass, if not wholesale cultural vandalism, to enter into their closeted world.
Happily, this suspicion has its benefits when one wishes to find out about something, as it's only a matter of time before a resident will come to their door if one proves sufficiently suspicious loitering about outside with a camera.
This incredible house which gunter referenced the doorcase of earlier is clearly of mid-18th century date, with a vicarage-style makeover on top conducted in the 19th century.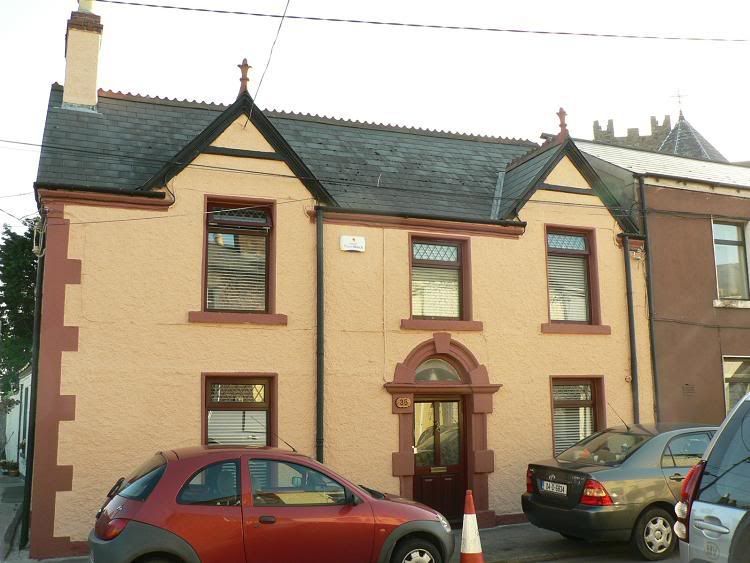 The owner tended to concur with this, though only after the weirdo outside suggested it, so not necessarily set in stone. They were however aware that the house was well over 200 years old. The similar pretty house facing the laneway to the side was formerly the mews of this house, so this alone tells us significant modification was carried out on an earlier house.
An interesting feature was the significant drop from pavement level into the house itself. One wonders if the ground floor had been excavated in the 19th century, as the ceiling heights were surprisingly high. What internal joinery I could make out was of similar date.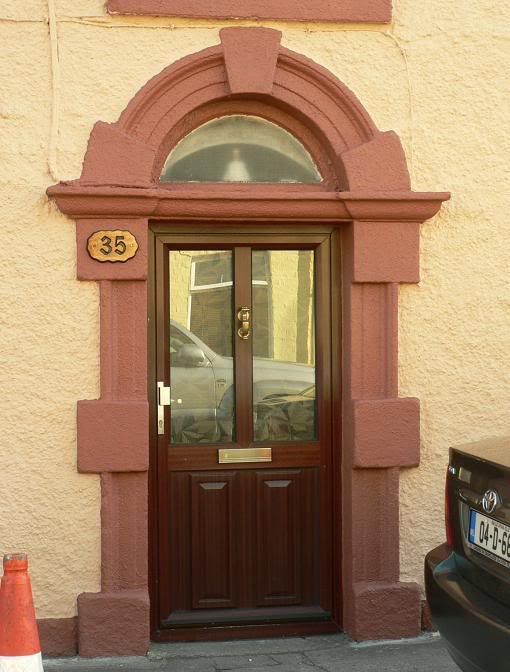 The couple also reported on significant drilling noise - described as 'piling' - coming from the unfortunate houses gunter has charted further up the street. They contended the houses were being refurbished rather than demolished, but weren't sure.
The front room of the left-hand house with corner fireplace is beyond tiny, There is almost without doubt the remains of an earlier structure in this pair of buildings. Below alone suggests that the hallway of this house was a later insertion, consuming part of the once cube-like room.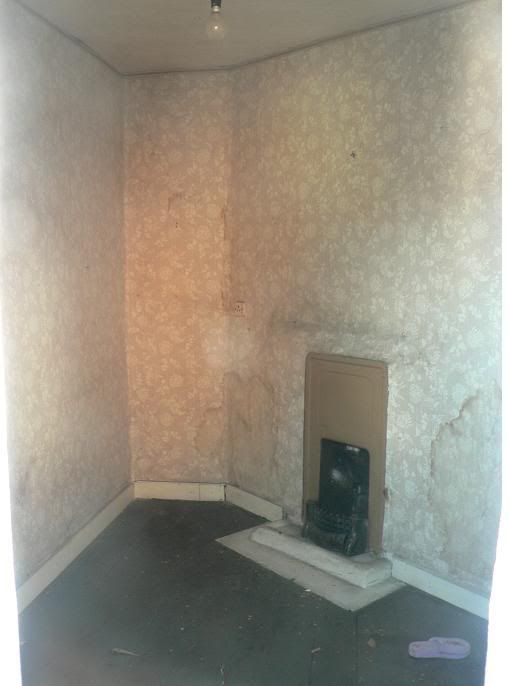 It is obscene what has been permitted in respect of these houses - amongst the top five most significant houses in the village. As noted earlier, if the entire village was to be whacked by order of importance, these would be amongst the final buildings left standing.
A decision akin to this type of thinking.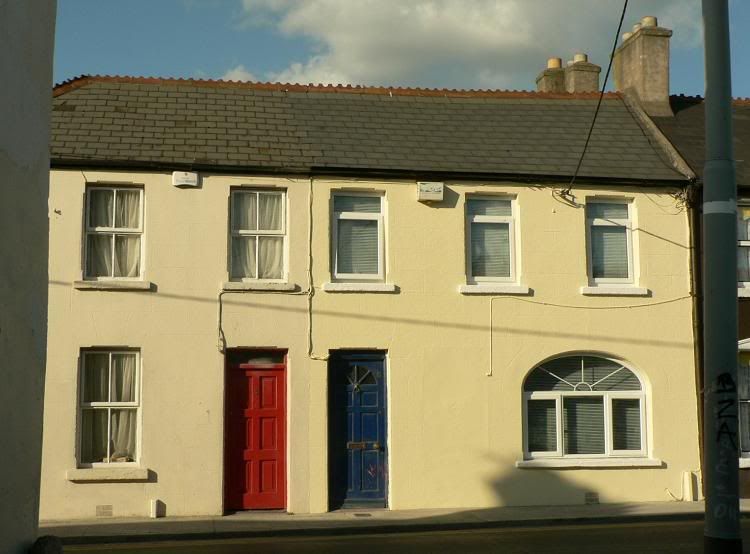 The house next door in Bath Street is also undergoing 'refurbishment'.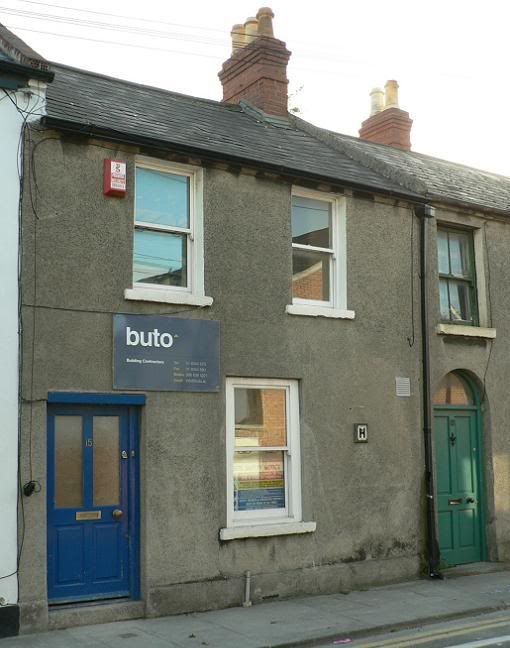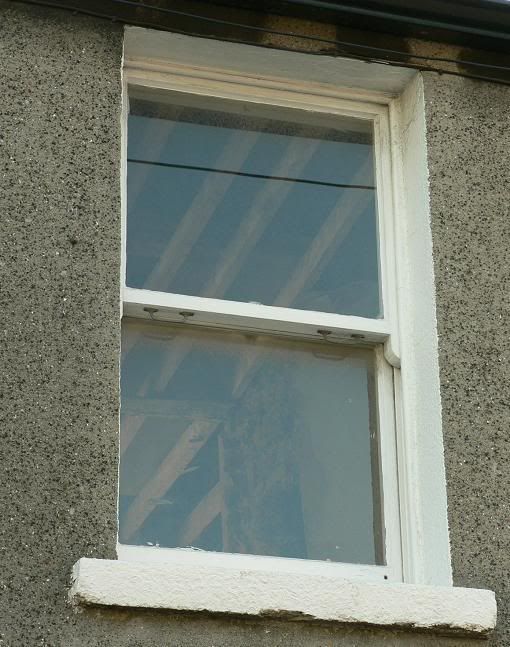 The barracks is a very handsome building. Clearly the grandest and most modern ever built in the town at that time, it must have had as much, if not more, impact as the new Garda Station today, with sophisticated hints of the Wide Streets Commission's work.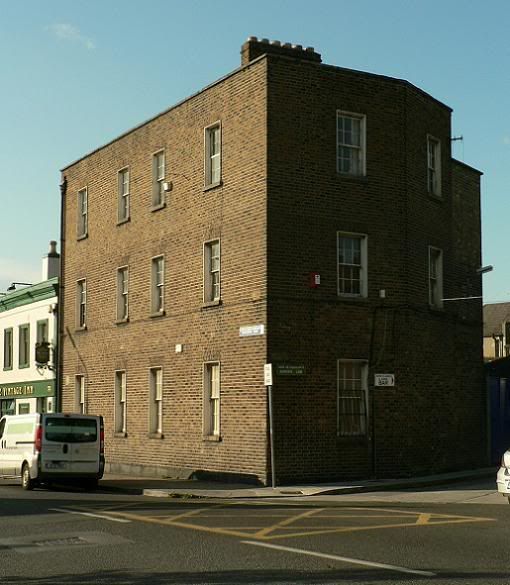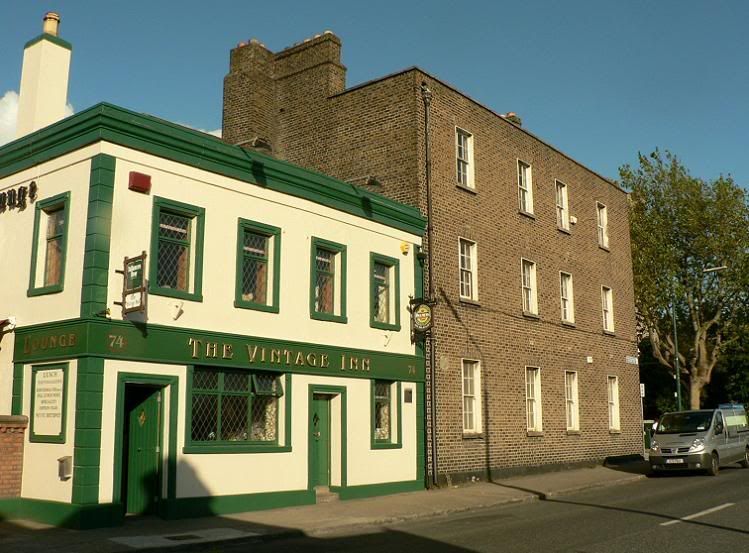 Is there a chipper anywhere in Irishtown? I was not amused.
Old Master
Posts: 4579
Joined: Tue Oct 15, 2002 10:24 am
Location: Ireland
---
yeh there's Iannelli's and the Canton House not more than 80 yards from where you were standing
Senior Member
Posts: 975
Joined: Sun Sep 03, 2006 8:33 pm
---
One of those fine vernacular houses on Bath Street had its appalling 1970s fake-stone cladding chipped off on Wednesday. Sadly the damage done to the original red brick by the guys who keyed in the wretched fake stone, forty odd years ago, was every bit as bad as I remembered it.
I understand that the façade is to be rendered.
In a civilized country, there would be local authority advice and grant assistance for the owners of valuable houses like this.
Old Master
Posts: 1905
Joined: Wed Jan 16, 2008 9:33 pm
Location: Dublin
---
---