gunter, it is a common perception that most of the Dáil Chamber dates to the 1890s, when in fact the vast majority of it dates to the conversion of 1924-1926. All of the furnishings were purpose-made for parliament, and the lecture theatre throughly altered. Little other than the columns and railings (much reproduction) remains.
Rather than rehearsing some details I'll just paste this link to an older thread:
http://www.archiseek.com/content/showthread.php?t=5325
(frightening that was two years ago - seems like last week).
There are some extraordinary photographs of the lecture theatre from 1922-1924 with an enormous and extremely dubious temporary platform structure raising the entire floor level to that of lower balcony level shown here (1890s).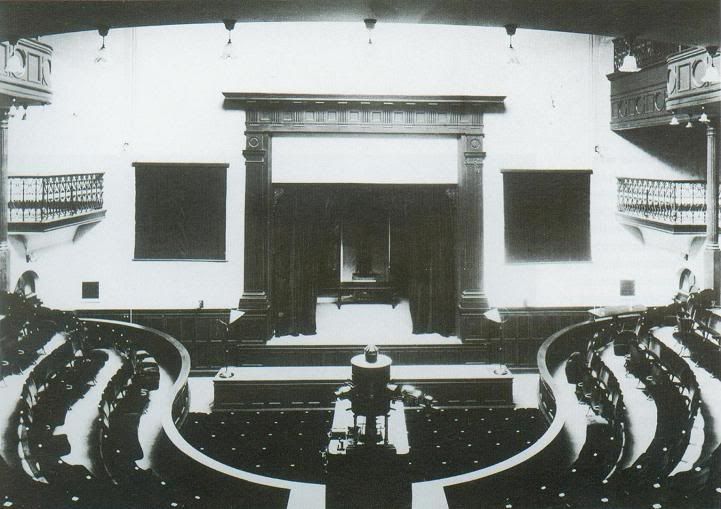 A railing of industrial proportions protected the Ceann Comhairle from plunging to a certain death on the floor below.
I would also just add that prior to the erection of the ravishing curtain and ill-proportioned timber panelling and doors at journo gallery level, there were once two handsome mahogany doorcases with lintel tops supported by scrolled brackets. It looks like these were removed in the 1930s in favour of the current arrangement.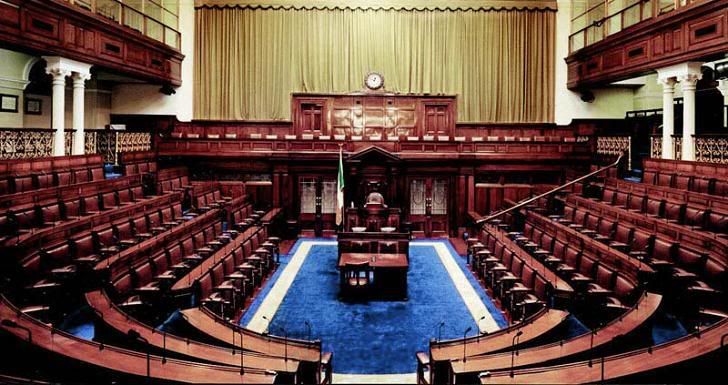 I absolutely agree that any new parliament building on the Lawn must have dignity of purpose and host both Houses. There is little point otherwise. A glorifed office block, however well designed, would fall flat in the context of what would be lost, while also completely defeating the purpose of giving architectural expression to parliament. Exactly the same situation as at present would ensue - a compromised white elephant would become the public face while parliament continued to be conducted in a converted shed out the back.
I would propose moving the entire lower Dáil ensemble to an elegant contemporary setting within the new building. It would require real ingenuity, and have the potential to be absolutely spectacular.