An interesting view of the Royal College of Science/Government Buildings complex here, depicted rather charitably as a gradiose crossover between the Vatican and one of Vanburgh's frothier concoctions.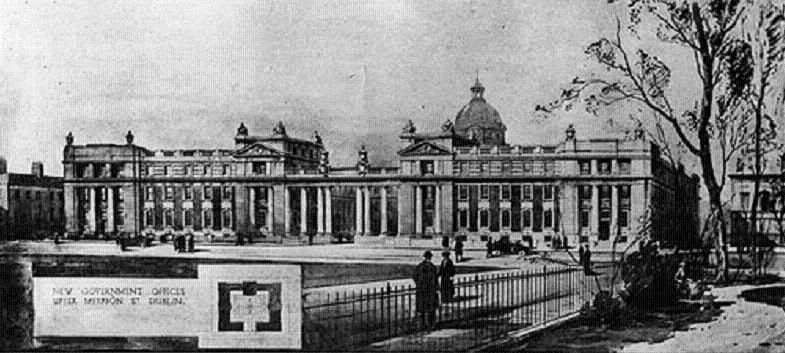 Two things stand out. Firstly, and rather obviously, this perspective of the complex cannot be realised on location, what with the southern corner of Merrion Square blocking nearly the entire view. The footprint of the terraced corner is shadowed onto the ground in the image. A shame that such a signature building is left merely to form part of a streetscape, allbeit a monumental one. Suppose it happens all over London.
Secondly, and much more interestingly, is that the expanses of facade appear to be clad in brick, which if the case would have radically altered the character of the complex as we know it, and potentially for the better - offering as it would a distinctly less frosty, more collegiate flavour. The dark windows are particularly elegant.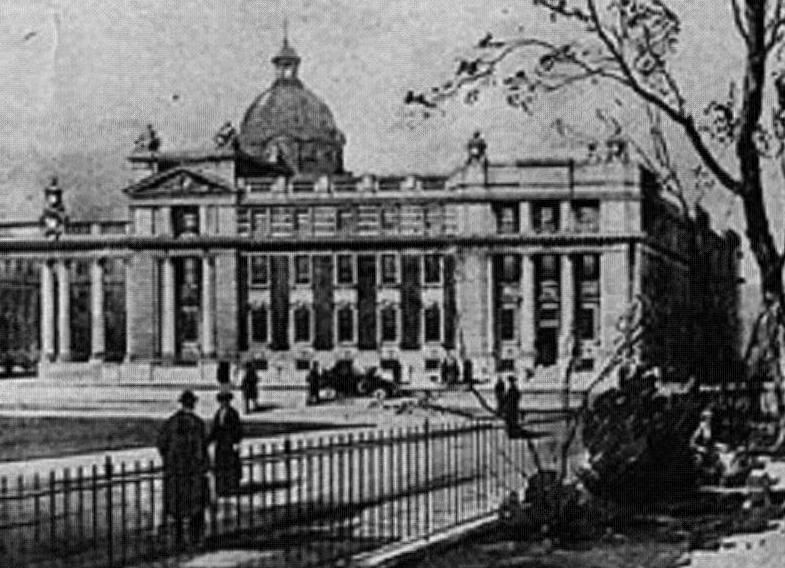 The demolition of so many Georgian houses to make way for the complex was not without controversy even back then, so it would also have made sense to harmonise the proposal with the surroundings through the use of red brick. A contemporary example of how it may have looked is the Iveagh Playhouse facing St. Patrick's Park.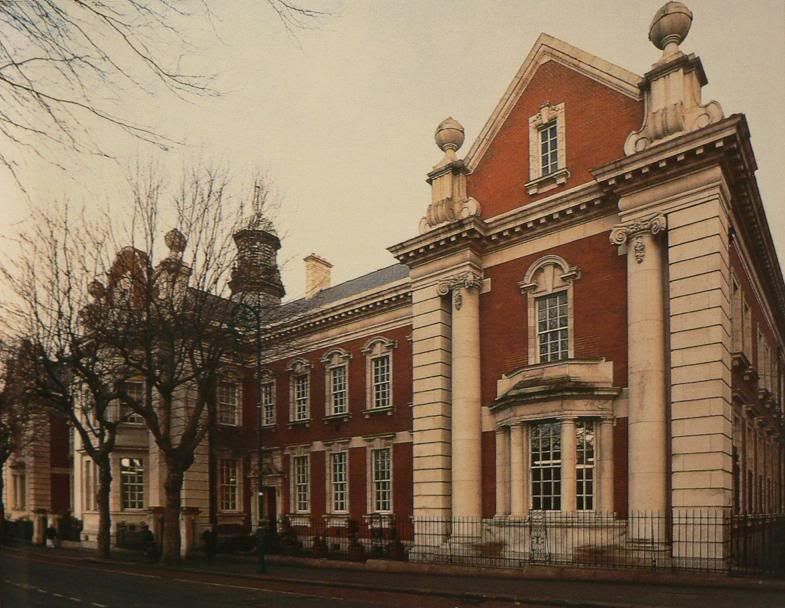 © David Davison
The courtyard in particular would have had a dramatically different quality in red brick and Portland dressings - positively quaint by comparison. However given the provisional proposals for the complex from as early as 1905 showed the use of Portland stone and granite, perhaps the above image is simply a little heavy-handed on the shading...
Government Buildings today, faced in sombre granite with Portland dressings in concession to demands for 80% of materials to be of Irish origin. Nonetheless the complex still managed to be entirely of Portland stone to the street.