An interesting view of the Royal College of Science/Government Buildings complex here, depicted rather charitably as a gradiose crossover between the Vatican and one of Vanburgh's frothier concoctions.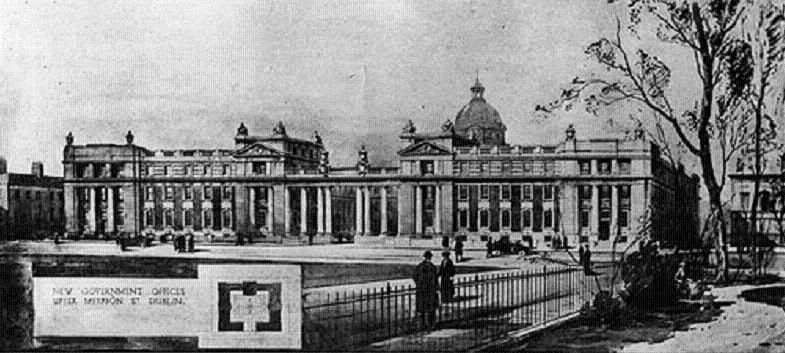 Two things stand out. Firstly, and rather obviously, this perspective of the complex cannot be realised on location, what with the southern corner of Merrion Square blocking nearly the entire view. The footprint of the terraced corner is shadowed onto the ground in the image. A shame that such a signature building is left merely to form part of a streetscape, allbeit a monumental one. Suppose it happens all over London.
Secondly, and much more interestingly, is that the expanses of facade appear to be clad in brick, which if the case would have radically altered the character of the complex as we know it, and potentially for the better - offering as it would a distinctly less frosty, more collegiate flavour. The dark windows are particularly elegant.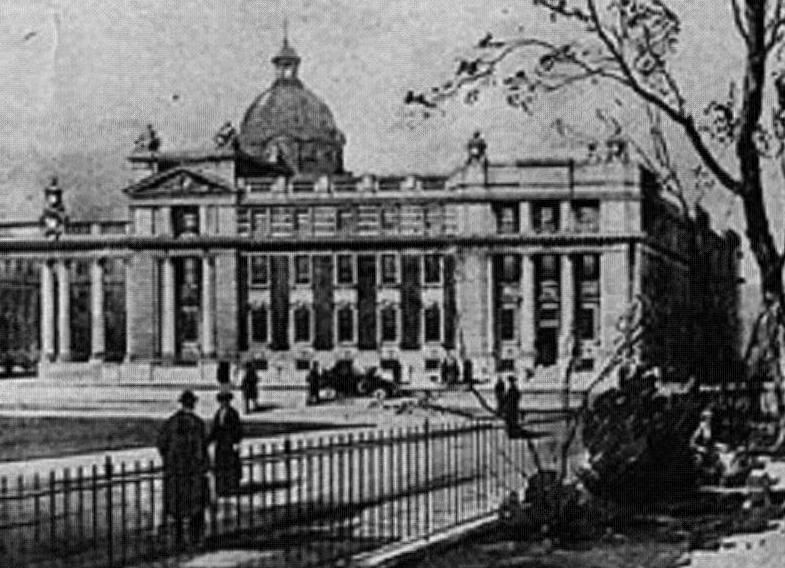 The demolition of so many Georgian houses to make way for the complex was not without controversy even back then, so it would also have made sense to harmonise the proposal with the surroundings through the use of red brick. A contemporary example of how it may have looked is the Iveagh Playhouse facing St. Patrick's Park.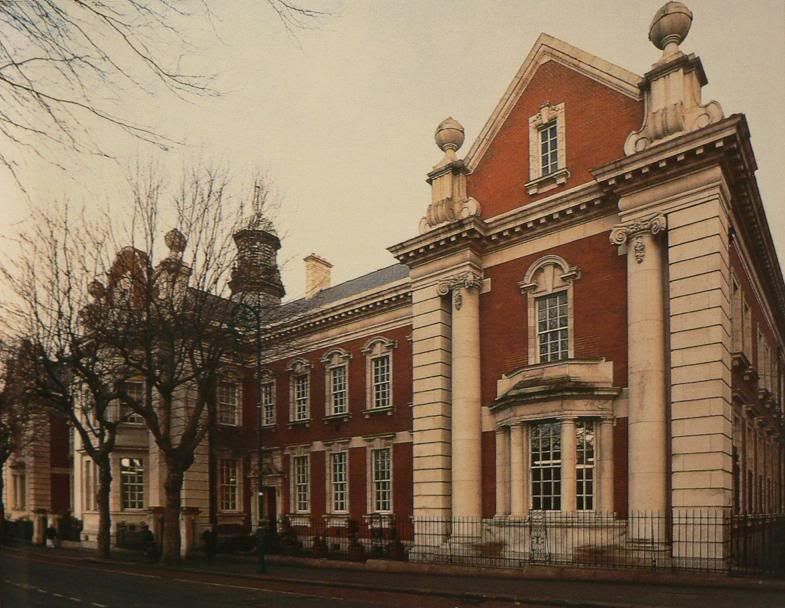 © David Davison
The courtyard in particular would have had a dramatically different quality in red brick and Portland dressings - positively quaint by comparison. However given the provisional proposals for the complex from as early as 1905 showed the use of Portland stone and granite, perhaps the above image is simply a little heavy-handed on the shading...
Government Buildings today, faced in sombre granite with Portland dressings in concession to demands for 80% of materials to be of Irish origin. Nonetheless the complex still managed to be entirely of Portland stone to the street.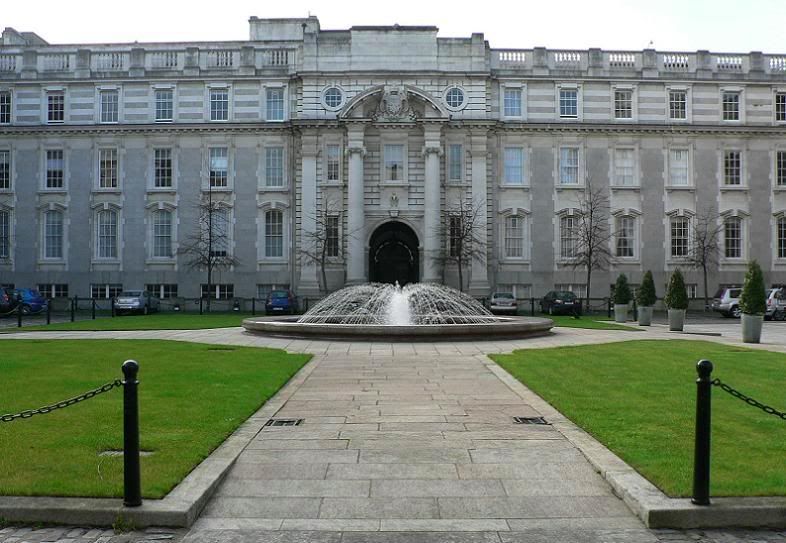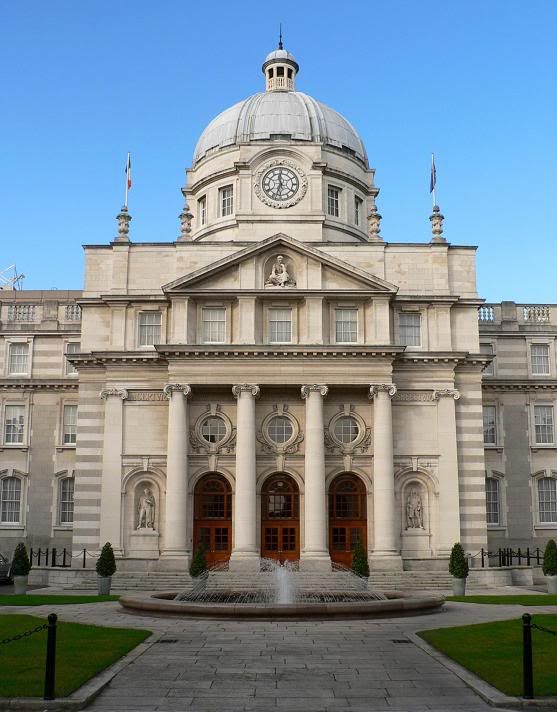 Old Master
Posts: 4579
Joined: Tue Oct 15, 2002 10:24 am
Location: Ireland
---
Never heard of a brick proposal for it before - then I looked at these closer
Old Master
Posts: 5417
Joined: Wed Mar 03, 1999 12:00 am
Location: Monaghan
---
Quite probably. Just, given the facade as executed to the street doesn't feature
any
other secondary facing material - granite, brick or otherwise - it's odd either way that it's depicted above as being polychromatic.
I've never ever come across any reference to brick either, alas.
Old Master
Posts: 4579
Joined: Tue Oct 15, 2002 10:24 am
Location: Ireland
---
Interesting info GrahamH; what puzzles me is why Agriculture House (or whatever) is still allowed to loom over the SW wing of this building like a 1970s bad dream.
Senior Member
Posts: 864
Joined: Thu Dec 13, 2007 11:43 pm
Location: Glasgow, Scotland
---
Great pics and very interesting, was there ever a residence as part of the building?
Member
Posts: 210
Joined: Tue May 06, 2008 3:44 pm
---
21/11/2010
Well with all this international media focus on us at the minute, including this evening's events, we can at least be proud of how consistently stunning Government Buildings looks on television news. One could not ask for a more photogenic complex, affording monumental streetscape views, as well as the more composed, gracious double-layered scene of railed columnar screen framing the dominant domed portico block. The glowering dentilated cornice in particular just makes the streetscape. It all combines to suggest permanance, solidity and strength. How achingly ironic.
Two things. Why on earth is the dome never lit anymore? The last time I remember it illuminated by its powerful white spot beams - and even then only from one side - was at least three years ago. It has been in darkness ever since.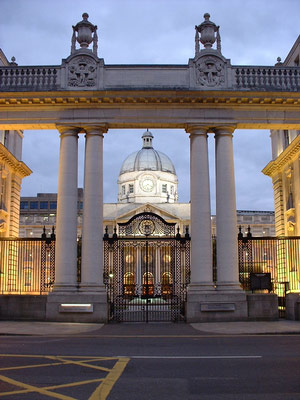 © fjp
Can we please get this in order?
Secondly, on a theme of presentational issues, to merely add to the current overwhelming sense of governmental incompetence, the screens behind Lenny & Cowen this evening featured the crass and mundane wording 'Government Press Centre', as if it was a Mastercard conference in the Burlington, instead of 'Government of Ireland' or 'Government Buildings'. And the icing on the cake? - all, including the State harp, were nastily stretched from 4:3 to 16:9. Even in grave times, they cannot cobble together a semblance of gravitas.
I often question if Irish people wonder about Government Buildings at all - what it is, who occupies it, and why a state barely 80 years old has a bombastic sprawling neoclassical complex as its government's headquarters. Given the public's general lack of education in such matters, where do people think it came from?
Old Master
Posts: 4579
Joined: Tue Oct 15, 2002 10:24 am
Location: Ireland
---
1. Fiscal Austerity - agreed to be misplaced
2. I doubt they know its origin, but I am sure they are a lot prouder of the architecture than the soldiers of destiny currently occupying it on highly unwelcome terms.
PVC King
---
---