The Twentieth Century Society (C20) has asked English Heritage to 'urgently' Grade-I spot-list Richard Rogers' Lloyd's Building in the City of London.
In a letter to the heritage body dated 14 January, C20 accused Lloyd's of failing to react fast enough to 'increasing pressures' brought about by 'security requirements, changing City trading patterns, and the requirements of new tenants'.
The letter goes on to say that C20 was 'aware of significant issues' that it claimed were 'likely to give rise to proposals that would be detrimental to the historic integrity' of the building.
The AJ understands that those 'significant issues' include plans to replace the Rosewood panels of the offices in the upper floors and the creation of a new entrance that would allow disabled access.
http://www.architectsjournal.co.uk/news/dailynews/2008/01/call_for_urgent_gradei_listing_of_lloyds_building.html
Old Master
Posts: 5417
Joined: Wed Mar 03, 1999 12:00 am
Location: Monaghan
---
Dear god, another of my childhood favourites under threat! I used to have a poster of this on my wall (how sad!). I think I was a bit of a Constructivist back then!! Ive always loved the main entrance - the floating steps and spindly ramp shooting out over the lightwell below. Surely there's some form of Disabled access already that would stop them from ruining this set-piece?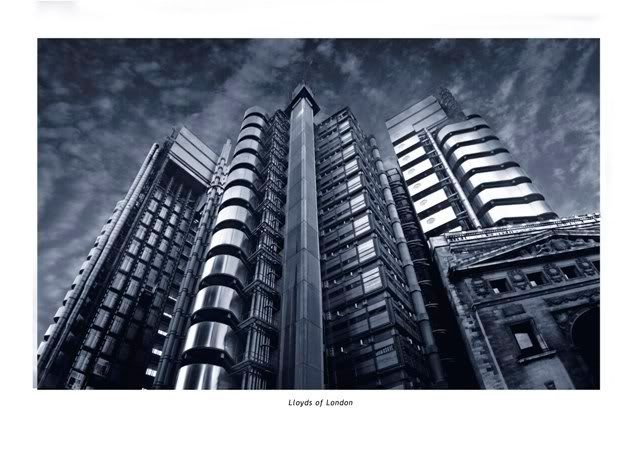 Wonderful image from
http://www.pureandapplied.co.uk
Member
Posts: 260
Joined: Fri Mar 12, 1999 12:00 am
Location: Galway
---
First Leicster then the Smithsons Robin Hood Gardens :
http://bdonline.co.uk/story.asp?sectioncode=725&storycode=3107018&featurecode=12177&c=1
and now Lloyds. Prince Charles will be rubbing his hands with glee.
Lloyds is one of the most beautiful examples of conceptually muscular yet contextually resonant ( whether this was intentional or not) buildings in the world. in my opinion it is the best modern building in London, which is a big ask.
Although that picture above is stunning and atmospheric it doesnt show the way the building relates in texture and soaks up the colour and tones of the older stone buildings that sit directly across the cavernous streets that surround Lloyds. it really is sublime, especially considering how unapologeticly modern the expression.
stay back building regs
Posts: 427
Joined: Tue Aug 19, 2003 11:18 am
Location: Dublin
---
I don't personally like the Lloyds building, but a lot of people, I speak to seem to like it, and it's important from an Architectural History point of view, so I'd support its listing.

Robin Hood Gardens, is, in my opinion, a bloated ugly mess, completely out of character with its area. It neither blends in, nor stands by itself as a good piece of architecture.

Most people living there or around it, hate it, or are indifferent to it. The only people who seem to like it are architects.
I don't know why BD writers love it so much.
Member
Posts: 163
Joined: Tue Feb 14, 2006 3:21 pm
Location: London (Orignally Dublin)
---
Im not an architect and I think this is building has equal iconic status as the gherkin.

In my opinion it is incredible, its impressive enough during the day its like a huge mechanical engine in the heart of london totally exposed, not hiding behind curtain wall glazing systems. Then at night gets better, looking like something from Blade Runner.
Member
Posts: 5
Joined: Mon May 12, 2008 1:05 pm
Location: Liverpool
---
---