Hello,
Chose to make my own U2 tower proposal for my final design project. Im probably 2/3 the way there, alot of detail to add to my model.. and my plans and sections are basically at diagram stage so alot of work to do there yet also.
Anyway tower is 240m, slenderness ratio of 12:1 (very tall for dublin i know, but i have my reasons)... Integrated a pedestrian bridge into the design so the base of the tower is pretty much a landscape which is porous to the city... this bridge connects to the future pedestrianised street of the point village. Most floors are apartments with u2 studios and terrace at the top. Oh yea, the design came from my studies of tall buildings and the wind phenomen associated with them.... observations of vortices etc thru simulations... So, in simple terms, and without going in depth to my approach, the external structure was to resemble a vortex which sweeps and twists the building footprint into the sky. Critique away
Perpective and end elevation
View from above of its current state - including bridge

Intersecting/twisting elliptical floor plates + primary external structure only
Simple diagram of whats happening with floor plates in image above
Old concept model
Obviously, as i have said... alot of work to do regarding the facade, structure!!!, plans, sections, but im working to an august deadline. Comments on the final form? I'll post plans as i get thru them
Member
Posts: 51
Joined: Thu Sep 28, 2006 11:16 pm
Location: Monaghan
---
Coming along nicely! By the way, what program did you use to develop those 3d drawings?
Member
Posts: 11
Joined: Thu Apr 08, 2004 1:57 pm
Location: galway
---
well site area and construction lines for the tower done in cad... surface generated and renders done in 3dstudio.

Thats the other thing i want to spend a few days working at, modeling the site area with more detail and get more of the city in
Member
Posts: 51
Joined: Thu Sep 28, 2006 11:16 pm
Location: Monaghan
---
If it was me i'd spend the time working on the building. In terms of building design, how accuratly you model the surrounding area is irrelevant at this stage. If needed you can take high def photo/aerial shots and stick the model in with photoshop.
The structure is unusual, remins me of the Swiss Re building in london.
I'd be interested to see/hear exactly how it is proposed to work.
Member
Posts: 389
Joined: Thu Nov 17, 2005 12:47 am
---
the structure is a tough one alright... at an earlier stage i had the helices interlocking (running in both directions), with each helix connected to the structural core within each floor level (in effect forming the primary floor structure + bracing the skeleton to the core). Each helix was also connected to both its neighboring helices at the perimeter. That proposal would have been closer the the swiss re, and i would have been comfortable with that. Sketches of my structural thinking at this very early stage (hadnt started form finding yet) :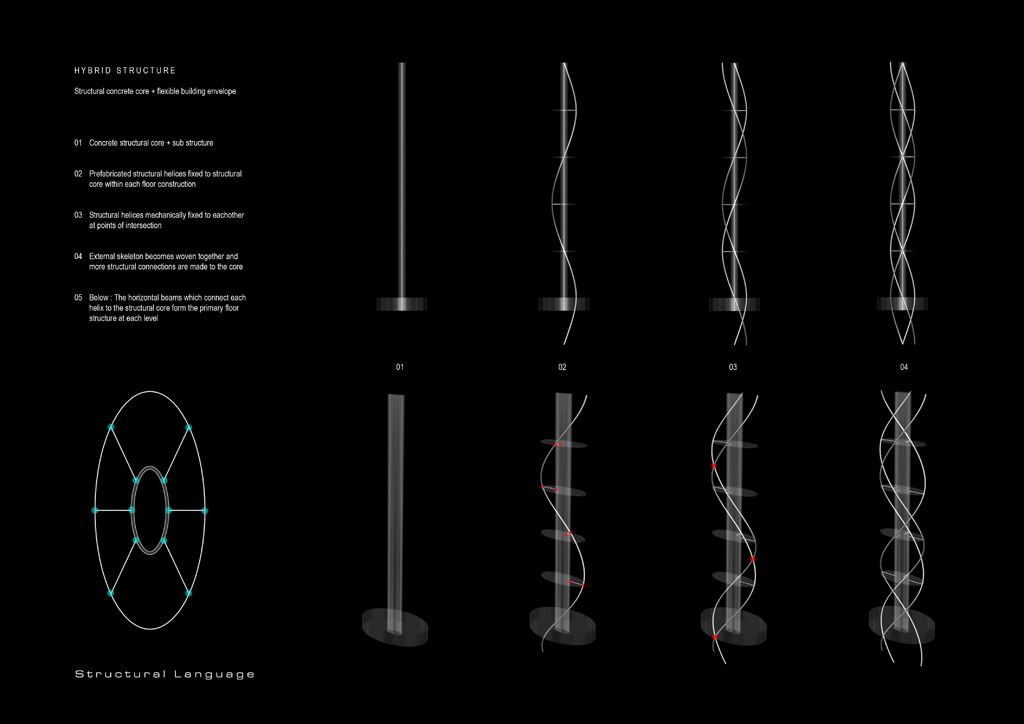 However as the design evolved this proposal would not work (due to the final form of the building). So now i have the structural helices running in the same direction which i am not happy with to be honest. However i have come across precedents where structural helices are running in the same direction:
From this primary helical structure will be supported a structural diagrid which supports the glazing. Still alot of work to do with structure, however im not expected to resolve it completely obviously. Any ideas for me regarding this problem? All structural columns are to the perimeter...none internal... maximum spans i encounter are 15m
Also, the reason i feel the need to model more of the city is for views from certain landmarks in the city
Member
Posts: 51
Joined: Thu Sep 28, 2006 11:16 pm
Location: Monaghan
---
You refered to the helixes as structural. I dont think they are. The structure is the perimeter columns. The examples you shown are not structural either. The facade is most likely a curtain wall fixed to a primary structure. The helixes are self supporting, nothing else. I am not sure if this what you were getting at in your structural analysis. I may be taking you up wrong.

How many floors are there? How much height have you given each floor? 15m is a large enough span, and the floor to floor height will need to account for this
Member
Posts: 389
Joined: Thu Nov 17, 2005 12:47 am
---
How can you say they are not structural lol?... The helices are basically columns which twist are they not?
Well, regarding the Inifinty tower, (my main structural precedent, the one in the middle, which foundation works have started on in dubai) :
'Amazingly there is not a single structural pillar anywhere inside the building, instead support comes from a complex concrete column structure that holds it up from the outside although a central service core remains.'
- Just as i am going for, no columns within the building
'Infinity's slender elegance conceals great strength: the tower's structural system is a high strength, reinforced concrete column superstructure that rotates with the twisting shape to create a helix.'
Now the structural columns being referred to here are indeed the helices which twist in the same direction at the perimeter of the building. These helices are structural, they are not there to simply 'look the part'. Yes the facade could be a curtain wall fixed to a primary structure... the primary structure being these perimeter helices.
What i am proposing is a similar concept. Obviously this Infinity tower has pushed the boudaries in regards its structure, and obviously my proposal would need to be worked out properly by a group of SE's, but in principle i think the precedent is good enough for me, an architecture student, to go on.... surely?
15m is the absolute max, most of the beams would be spanning 5m -10m... 15m would mean an almost 1m beam or so, i dunno..., but my floor to floor height is 4600mm, so i have sufficient room to play with when you include the floor construction and service void.
Member
Posts: 51
Joined: Thu Sep 28, 2006 11:16 pm
Location: Monaghan
---
I may have taken up your description wrong, ibut it cam accross that the helixes are facade elements. Looks like that in one drawing, but it is hard to tell.
I didn't know much about the infinity tower, as was unaware that the main columns are helixes, But to me they are very different to your building, the facade twists with no real evidence of the columns. Is this the case with your building? Its hard to tell from the top drawings. I thought it was closer to the turning torso (right picture above) which has an external steel scaffold system. Obviously, the way you have proposed it is fine, i just misunderstood from the drawings.

If you floor to floor is 4600 then you have loads of room. Most of the projects i sen this year were at the 3000 mark with an occasional one at 3500. So some of these were tight (3000).
Member
Posts: 389
Joined: Thu Nov 17, 2005 12:47 am
---
The images of the Infinity tower are very... well, they don't give much away as to what is actually happening!. However i have looked at plans of the Infinity at various levels and they are columns that twist in the same direction. This guy seems to have modelled whats happening with the columns close enough imo ..alot of them are shown in wireframe but you get the picture
http://www.skyscrapercity.com/showthread.php?t=413886&page=8
I've only ever seen columns for high rises going straight up, or running as a double helix (in oppositie directions). I've never seen a structure like this before... It looks pretty simple but it just seems that the whole thing wants to twist on itself and rip away from the structural core... I dunno lol im not SE.
Anyways im glad i came across it, i think i can employ a similar strategy.
Yea i was looking at some of the 'luxury' apartment scrapers for dubai by a few architects with floor to floor heights of ~ 4400. Its quite high i suppose but necessary because of the dept of the floor structure.... the compromise i had to make for no columns interupting internal space
Member
Posts: 51
Joined: Thu Sep 28, 2006 11:16 pm
Location: Monaghan
---
---