It is certainly very stark for an otherwise classically inspired building, which is why a clear design statement inside made visible from the exterior is all the more important I think. The cosmetics hall immediately inside the doors could also do with a rearrangement in that respect. They used to have a fantastic Edwardian rounded display case in the central aisle up until recently (it comes and goes) that makes a very striking first impression, and lets face it helps conceal the view of the dingy 70s escalators - it too could be used more often.
There's also another original feature intact in the window area in the form of a vaulted plaster ceiling that runs parallel to the windows, two arches deep. One of the arches extends to the width of the display area, with the second behind the screens in the store itself. Both are concealed by suspended ceilings, and alas will remain as such in the reordering. However the current low display ceilings will be raised to the full height of the windows, with the coloured-in upper panels made transparent once again, as below. This should make an enormous difference, especially with the ceilings scattered with spotlights. Currently they are suspended at the level of the horizontal glazing bar.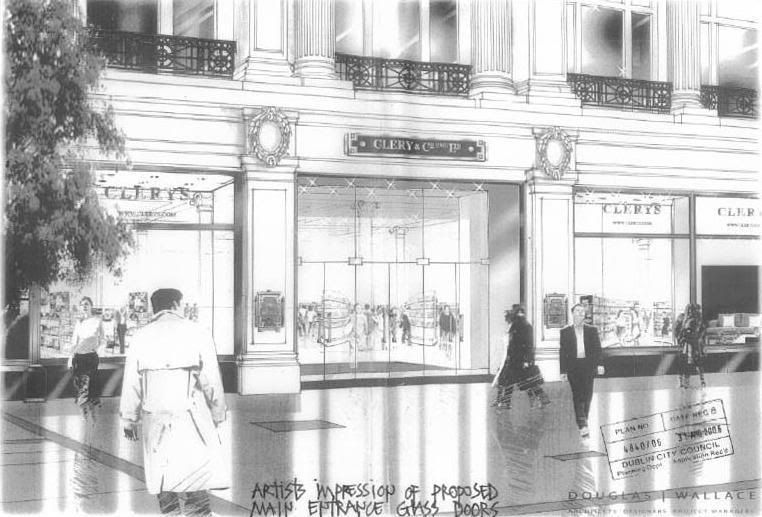 Old Master
Posts: 4554
Joined: Tue Oct 15, 2002 10:24 am
Location: Ireland
---
I agree that the arrangement of the cosmetics hall could do with some serious further consideration; what is proposed if the image is anything to go by appears to be a bog standard Boots style fit out with all the usual suspects such as Lancome etc given standard format tables to be festooned with product and cardboard cut outs.
It would be entirely appropriate for the Edwardian display stand to be resurected and replica cabinets built to give the shop a sense that it is different to its architecturally more generic rivals.
In relation to the escalators there has been a growing trend in old shops to reconfigure escalators from an entrance to back wall alignment to a horizontal alignment from the doors. The effect of which is to take the focus away from the fitting to the people using it which can be further accentuated by using glass panels between the handrail and stairs.
A further recent development has been the development of perspex holding cells for shoplifters; personally I would favour a link to any plasma screens in the front windows to give celebrity status to such offenders.
Holding Cells
PVC King
---
Clerys profit recovery gathers pace

Friday, 1 June 2007 08:13

The Clerys chain of stores has disclosed profits up 75% at just under €1.4m for the 12 months to the end of January. Sales came in at just under €73m, an increase of 7.3%.

This is the second year in a row that Clerys has been in profit after a period of difficult trading.

There are five stores in all including the flagship O'Connell Street store, Guiney's on Talbot Street and three suburban furniture stores. The company opened its first store outside Dublin, in Naas, Co Kildare, last October.

The company has spent €18.8m on buying more land at the back of its flagship store on O'Connell St.

Chief executive PJ Timmins said the city centre had become a more attractive place for retail, with the arrival of the Luas and enhanced pedestrian spaces.
Was this the Sackville House transaction or have there been others?
PVC King
---
PVC King wrote:Was this the Sackville House transaction or have there been others?
In the last couple of days the wraps have just been coming off the refurbished and extended car park on the corner of Marlborough Street and Sean McDermott Street, and it now has a big sign saying
Clery's
. I don't think it was Clery's beforehand.
Member
Posts: 68
Joined: Tue Aug 03, 2004 10:07 am
---
PVC King wrote:Was this the Sackville House transaction or have there been others?
Sackville House was asking about e18-e20 million I think so almost certainly that
Senior Member
Posts: 802
Joined: Wed Sep 28, 2005 3:34 pm
---
Thanks for confirming this

I am really hopeful that they will be able to do something attractive and in the process kick start Marlborough Street which to my mind is the worst performing street in Dublin on the basis of ambiance vis-a-vis the quality of some of the building stock and convenience to a main thoroughfare.
PVC King
---
Hi,

I'm wondering do any of you know why the faces carved along the side wall of Cleary's on O'Connell Street gradually go up as you near the front of Cleary's? I think the street is Sackville Place, but I'm not certain. There is, however, a small taxi rank on that street. The stone faces (I'm sure there is a word!) are very downcast the farther they are from O'Connell street and gradually they rise to the extent that the nearest one to O'Connell Street has its head high and is smiling.

Does anybody know the history to this type of architecture?
Thanks.
Member
Posts: 1
Joined: Sat Aug 25, 2007 9:52 pm
---
On a seperate note, I was in Clerys at the weekend and was impressed with the front of house change in design. The window displays no longer have backdrops blocking the interior of the store which means you now have views of the ground floor shopping area as you walk by outside. It makes the store a lot more inviting and sophisticated looking, particularly the southern corner which now houses an upmarket jewellery dept. The only let down was the dirty old fashioned escalators that hark back to the store's dowdier days. Surely they could invest in newer sleeker replacements which I think would complete the upgrade of the store
Member
Posts: 48
Joined: Wed Mar 21, 2007 1:38 pm
---
However...that big roller shutter on the main door looks terrible at night and is hardly in keeping with the look proposed at the top of this page. I thought shutters were required to be located internally.
Old Master
Posts: 2379
Joined: Sun Jul 15, 2001 11:00 pm
Location: Dublin
---
17/9/2012
So we've finally reached the endgame, as we've watched Clerys crawling towards inevitable receivership for the past number of years. Who do we think will take over this tired and increasingly irrelevant grand institution? Will John Lewis take the opportunity to escape the doomed Carlton scheme, or is the Irish market still too depressed to consider?
Either way, one cannot envisage Clerys surviving in anything even remotely like its current guise, with almost every facet of its current incarnation, with the exception of cosmetics and some limited areas of older women's fashion, being the antithesis of a modern retailing experience.
In spite of the limited investment charted above, the place needs a radical overhaul, with nothing short of the return to the original galleried design being required to introduce high-impact rebranding and a higher order shopping environment. Failing a takeover by an international multiple, surely a major staple for a prestigious store located on the virtual airport terminal that is O'Connell Street is a substantial food hall, specialising in fresh Irish foods, artisan produce, and affordable dining in a host of formats, from counter to café to restaurant.
A delightful video here showing the original galleried layout, waiting to be uncovered through the stripping out of those ghastly escalator shafts and surrounding infill ceilings. The original beautiful 1920s bracketed light fittings can be seen responding to each column, however the lamps themselves look suspiciously 1930s in character. I recall more elegant luminares in 1920s photographs...
http://www.youtube.com/watch?v=EN4axg_0 ... e=youtu.be
Old Master
Posts: 4554
Joined: Tue Oct 15, 2002 10:24 am
Location: Ireland
---
Innovate and improve or die! This must be the mantra now for the city's struggling retailers. Its not simply enough anymore to slap up a cheap shopfront, never clean or present your business properly, make-do with an outmoded interior and poor merchandising and then simply hope they keep coming.

There are many great things about Clerys but the store has become increasingly outmoded in recent years and lost its way on who it was trying to attract. The focus on franchises, many of which are established in their own better stores elsewhere in the city centre, and the lack of fresh thinking and ideas have meant that Clerys offers nothing distinctive or different to consumers.

What is hilarious to listen to is the commentary this morning...reminiscent of Bewleys. "Aaah jaysus...is it closin'....aah jaysus. I havent shopped there since 1972 but its a great Dublin instutution".

Clerys is to remain open and hopefully to see a revival in its fortune. The smaller chaotic Guineys store located in an increasingly derelict building on Talbot Street closed yesterday.

Michael Guineys of the brash tangerine orange shopfront fame remains unaffected.
Old Master
Posts: 2379
Joined: Sun Jul 15, 2001 11:00 pm
Location: Dublin
---
An interesting piece on Clerys in the Sunday Business Post (if a little dated in some of its details).
Old Master
Posts: 2379
Joined: Sun Jul 15, 2001 11:00 pm
Location: Dublin
---
---