Yes I was wondering what that selophane was about too; not sure if it's protecting the concrete or just holding the electrial access doors in place. Probably the former given metal bands are the usual short-term solution to broken doors.
Even in Morlan's pic here you can see quite a bit of deterioration to the concrete, and only that that can be seen: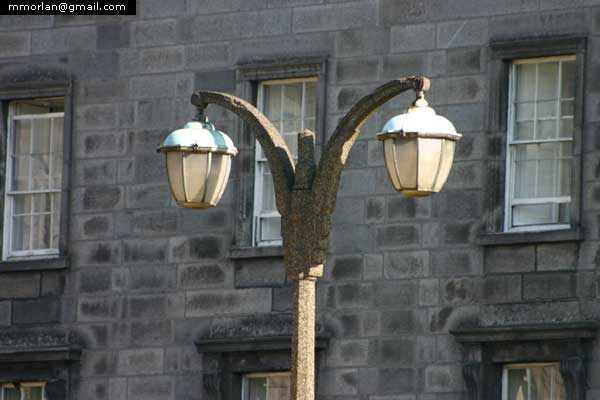 They are definitely in need of work at this stage; given the unusual nature of their construction they don't even receive a coat of paint over their lifetime. And goodness knows what structural state the lamps are in at this stage.
Indeed just on the lamps, I came across one of these notorious 1930s pieces recently having passed it for years without realising what it was, as has probably everyone else: the lamp suspended from the ceiling of the entrance foyer to Trinity on College Green! How did that get there?!
Also on streetlighting, an application of undercoat to a lamp on Talbot Street recently highlights just how good standards can look in a colour other than boring old black. Coloured streetlights can really help in creating an identity for certain streets and ought to be tried out more (though not with those hideous lanterns).