Well here's the thread for street lighting as orginated in the O' Connell St thread.
I think it's perhaps appropriate that both old, new and everything in between be included, hence the generic title - not least to show how public lighting in the city has progressed up to the present day.
Well to begin with, what follows is a rough history entitled 'The Lampposts of O'Connell Street - From Lamplighter to LED'
Much of the information is derived from an eye-straining sorting through of hundreds photographs from books, pamphlets and the internet, as well as archive footage.
As you'd expect, there's a bit of cross-over with other city streets as some lighting schemes covered more than just O'Connell St.
Anyway I hope this is of some interest to people other than myself
; there seems to be some general interest in the topic anyway....!
Rather than trying to cover the disjointed schemes of the 18th & early 19th centuries, and accounting for the lack of images from the period, this starts in the 1870s, some 45 years after gas was introduced to Dublin in 1825.
1870s
To start, these small gas-powered column lanterns were used to light O'Connell St, Westmoreland St, College Green and Grafton St, with many other places using a similar design post and possibly identical lamps.
Placed along the edge of footpaths on O'Connell St, they featured an unusually decorative base, the lower part fluted, fairly short shaft, large glass lamp and possibly a lead-clad roof: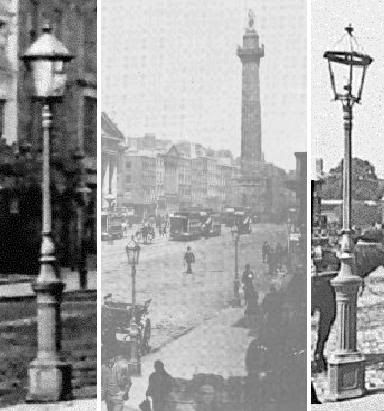 During this time and right through into the 20th century, similar lampposts surrounding various statues played an important role in lighting the centre of the street.
1880
O'Connell Bridge opens, adorned with no less than 39 gas-fuelled lamps, attached to some of the grandest standards ever erected in the city – 3 five-armed columns on the median, and 4 three-armed columns on each parapet of the bridge. These must have created quite a stir when first lit: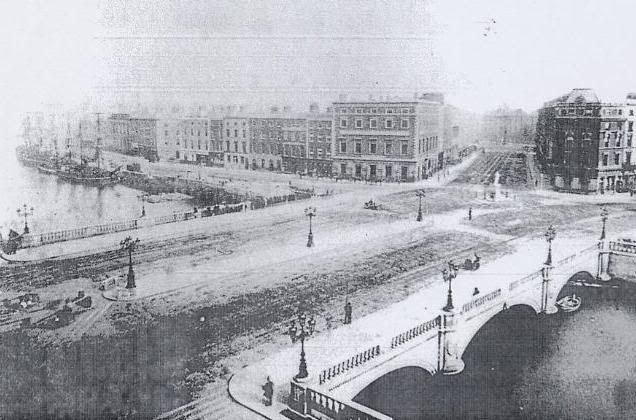 (Devin's pic)
1892
In a major step forward, some 78 electrically powered lampposts were installed along O'Connell St, O'Connell Bridge, Westmoreland St, D'Olier St, College St, College Green, Grafton St, Dame St, Parliament St, Mary St and Henry St.
These were the first electric lamps ever to light Dublin's main streets and were powered from a new station at Fleet St. This project also seems to have been the first unified lighting scheme for the city centre.
Quite American in design, these were the tallest lampposts ever erected on O'Connell St to date. They featured long elegant columns rising out of a typical fluted base and were capped with a hurricane-like lamp – the glass globe suspended from a hooped frame and powered by the cable entering its underside from the top of the shaft.
Some, if not all also featured a mesh-like wire over the globes.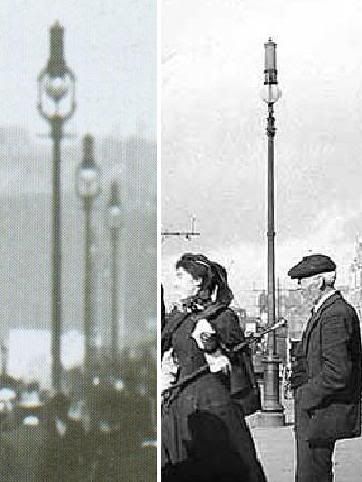 They were positioned along the edge of the side pavements of O'Connell St, but also the odd one in the now-median area. One was also placed directly in front of O'Connell Monument and surrounded by four bollards as the street's 'introductory' post: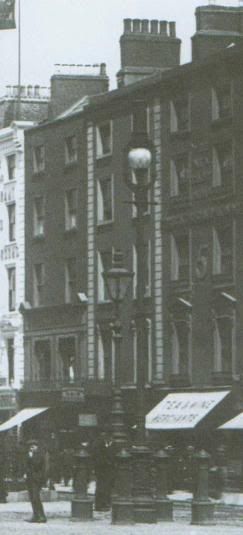 One post was also placed on each of the four corners of O'Connell Bridge, and on William Smith O'Brien's island as can be seen here: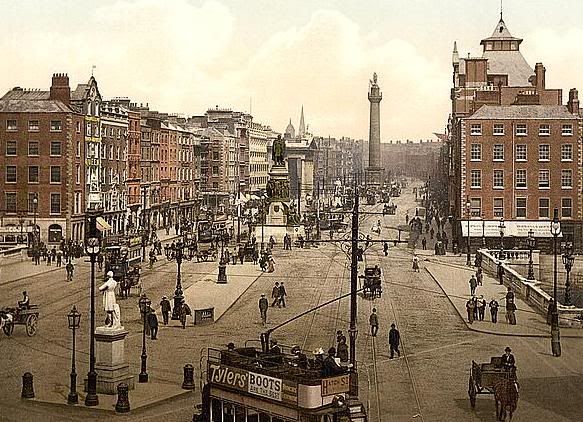 You can also see one to the rear of O'Connell, with that monument's impressive 1882 columns also evident: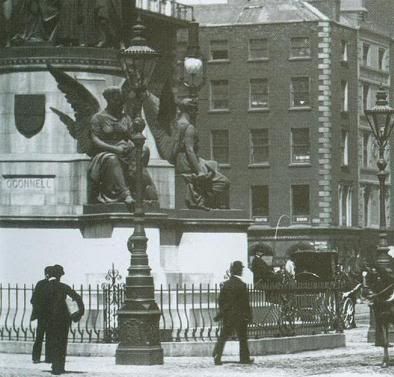 It seems these electric lamps rode roughshod over gas-lit areas, including the bridge. Some of the older small posts mentioned earlier seem to have remained for quite a number of years after these new electric ones both came and went. Gas took a long time to leave it seems.
Cntd...