mcdanish wrote:This is dreadful, such an eyesore and also makes the footpath narrower as the bollards are an obstruction to pedestrians especially with buggies. People are more likely to step on the road now that these bollards are in place.
With this, the latest intervention on Clarendon street and the drastic so called traffic calming measure at Dublin Castle one has to wonder seriously about the credibility of Dublin City Council to deliver quality streetscapes worthy of the elegant streets of Georgian Dublin.Its seems like DCC is one of the major contributors to the destruction and vandalism of Dublin along with the litterers and graffiti.Seriously heads should roll for some of the work that has been carried out in the city in recent years.Depressing.
+1. And the usual "incremental loss" of historic kerbs, exactly what the City Council's 'Historic Street Surfaces in Dublin' report 2009 is trying to stop:
Google Maps show a complete line of historic kerbs along here: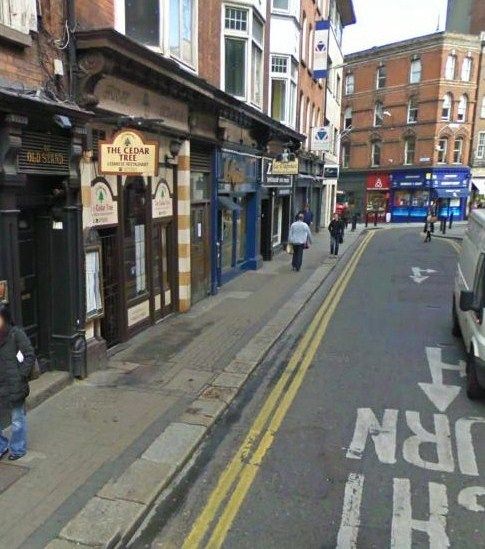 https://maps.google.ie/maps?q=Saint+And ... 6,,0,16.31
Job carried out under Martin Jordan, Senior Executive Engineer (South Inner City), Roads Maintenance Department, Dublin City Council (
martin.jordan@dublincity.ie
)
Member
Posts: 67
Joined: Mon Aug 08, 2011 8:26 pm
---
exene1: I think the whole point of that study is that it found a lovely dusty corner of a shelf out of sigh and out of mind.

Most of the kerb stones were kept and retained in this instance. I have an email to Public Realm team about loss elsewhere that is waiting a reply. However retaining lovely historic features is pointless if this is the type of follow up.

I spent the weekend listening to a variety of people with varying degrees of interest in the built environment sharing their WTF reaction with me.
Old Master
Posts: 2479
Joined: Sun Jul 15, 2001 11:00 pm
Location: Dublin
---
I note the bollards have a subsidiary function of facilitating the placement of sandwich boards.
(shakes head)
Member
Posts: 220
Joined: Mon Feb 26, 2007 2:03 am
---
Old Master
Posts: 2479
Joined: Sun Jul 15, 2001 11:00 pm
Location: Dublin
---
Its subjective though...good design....isn't it. I mean Martin obviously feels he came up with a good design solution to the problem on Andrew Street. And the unknown soldier who designed the Plinth for the Skint on Castle Street obviously feels that they made a good stab at balancing the needs of traffic, pedestrian safety and those of an architectural set-piece at Cork Hill.

Perhaps they should set up their own Facebook page.
Old Master
Posts: 2479
Joined: Sun Jul 15, 2001 11:00 pm
Location: Dublin
---
StephenC wrote:
StephenC wrote:Its subjective though...good design....isn't it. I mean Martin obviously feels he came up with a good design solution to the problem on Andrew Street.
Hello Stephen. The Roads Maintenance gang seen in your photo above work under Mr. Martin Jordan, Sen. Exec. Engineer for the south inner city. Mr. Adrian Corrigan (
adrian.corrigan@dublincity.ie
) is his counterpart for the north inner city. So if the Roads Maintenance street gangs in the yellow jackets are replacing the listed historic kerbstones with chinese granite, it is their responsibility.
As for the bollards, cannot say if it comes from same dept.
Member
Posts: 67
Joined: Mon Aug 08, 2011 8:26 pm
---
Thanks... I thought the sarcasm dripping from my last post was obvious.

It is probably worthwhile to name the bright sparks doing this kind of stuff to our streets. The carbuncle on Castle Street was 'designed' in City Architects Division. Ali Grehan, the city architect, gave some worrying and bizarre comments in their defence in the Irish Times article previously posted.
Old Master
Posts: 2479
Joined: Sun Jul 15, 2001 11:00 pm
Location: Dublin
---
The bollards were gone yesterday.
Member
Posts: 160
Joined: Thu Aug 03, 2006 4:36 pm
---
Well that is good news. They should never have even been considered. Im sure the cast iron bollards will replace them. This is a shame though...there is little enough room on these pavements as is. Its simply not necessary to have bollards on every single street, spaced 1m apart. Its hugely wasteful of public money and ultimately damaging to the aesthetics of the city (what little remains at this stage). There appears to be this pathological need to blight every streetscape in this city....whether through bollards, excess signage (or empty poles), mismatched furniture, mismatched materials, loss of historic materials. I cant understand it.
Old Master
Posts: 2479
Joined: Sun Jul 15, 2001 11:00 pm
Location: Dublin
---
A New Design Manual for Urban Roads and Streets has just been released.
From Transport.ie:
New street design to benefit pedestrians, cyclists and public transport users
Minister for Transport, Tourism and Sport Leo Varadkar has today launched a new design manual that will significantly alter our streetscapes in the future.
The new manual aims to end the practice of designing streets as traffic corridors, and instead focus on the needs of pedestrians, cyclists and public transport users.
The Design Manual for Urban Roads was overseen by the Department of Transport, Tourism and Sport and the Department of the Environment, Community and Local Government. It will outline practical design measures to encourage more sustainable travel patterns in urban areas. The Manual sets out design guidance and standards for constructing new and reconfiguring existing urban roads and streets in Ireland, incorporating good planning and design practice.
Speaking this morning, Minister Varadkar said: 'If we want people to travel in a more sustainable way – by walking, cycling or using public transport – we need to make sure that the streetscape will persuade them to take the sustainable option'.
"There is a growing appreciation that streets are much more than a traffic corridor. They should be places where people want to live, and spend time. The key is to improve street design for pedestrians, cyclists and public transport users, and to reduce the impact of vehicles on residential streets.
"At the same time, the Manual recognises the important role played by the car. It wants to achieve a better balance in how our urban roads and streets are designed and used. And it recognises that in some areas, cars play an important role because they re-assure pedestrians, particularly in more remote areas at night time.
"The Manual is also important for our tourism and heritage. It will support our historical street layouts, and encourage the development of new streets and plazas which are good for business and for tourism. Crucially, it should also help our focus on safety levels, particularly in the run-up to the United Nations Road Safety Week in May."
PDF Document here:
http://www.transport.ie/uploads/documents/news/Design%20Manual%20for%20Urban%20Roads%20and%20Streets.pdf
Member
Posts: 31
Joined: Tue Dec 20, 2005 3:03 pm
Location: Dublin
---
Hope fully by now, all those pesky people agitating for quality public realm in the city have moved to London or Australia or Latvia or wherever else and we can get back to normal; to bog standard and medicore.

The Council are completing work on a section of Dame Street at the moment. It just stuck me (again) seeing the work how very little imagination was applied to this repaving work. Simply replacing concrete for concrete with no effort made to consider street lighting or the potential for some planting to even some widening. Its a real shame. The work on Ormond Quay is a similar situation...just replacing concrete flags as per the work on Aston and Wellington Quays last summer.

Surely the Dublin Public Realm Strategy was meant to change this kind of lowest common denominator approach; to bring some new ideas and fresh thinking to Dublin's drab public realm. But who hears of this initiative any more. Whither now the Public Realm Team that was apparently set up to coordinate this type of work.

And take a walk down to Docklands, where quality public realm was at least developed as part of the building boom to bust down there. Look at the detail, All those inset uplighters and LED strips so beloved of expensive urban landscaping. Since no one is left to change the light bulbs and maintain the lighting (or pay the bill) they're being removed and replaced with....pour concrete. No effort to replace the concrete or granite flags. Just dump in some concrete. Tree dies? Just fill in the base with some concrete...too expensive to buy a new tree.

Up on Earlsfort Terrace a section of the granite pavement in front of the National Concert Hall was recently relaid and the same poor practice was applied. Big strap cement pointing that almost causes the lovely granite to disappear.

And we still love those bare signage poles: Plant Poles Not Trees!
Old Master
Posts: 2479
Joined: Sun Jul 15, 2001 11:00 pm
Location: Dublin
---
Dublin City Architects and the Vacant Sites Initiative in Dublin City Council are hosting a workshop to gather ideas and solutions to 600 vacant sites identified across the city centre.

City Limits: Inventive Uses for Urban Spaces
Wood Quay Venue
Thursday 13th February from 6pm
Old Master
Posts: 2479
Joined: Sun Jul 15, 2001 11:00 pm
Location: Dublin
---
---