Okay, so I'm being somewhat mean. The miserable image on the first page is what it's usually like - albeit when it feels like it. I know it's something of a national pastime to rant about what was and was not achieved during the boom years, but it really is quite extraordinary that the two most famous icons of the city, the Four Courts and the Custom House, remain resolutely stuck in the 1980s when it comes to floodlighting. Indeed, remarkably, the Four Courts has
never
had a tailor-made floodlighting scheme of any kind in its history, while the Custom House's, though comprehensive, is outdated, high maintenance, in parts poorly designed, and decaying.
Illuminated by pairs of sodium floods attached to the lampposts along the quay, the proximity of the Custom House's lamps to the facade results in unsightly 'hotspots', while the predictable orange glow is murky and indistinguishable from the light cast by virtually every lamppost in the city. This is counter-productive to the entire point of floodlighting buildings in the first place. The floods are also constantly blown, flickering or randomly switched on or off.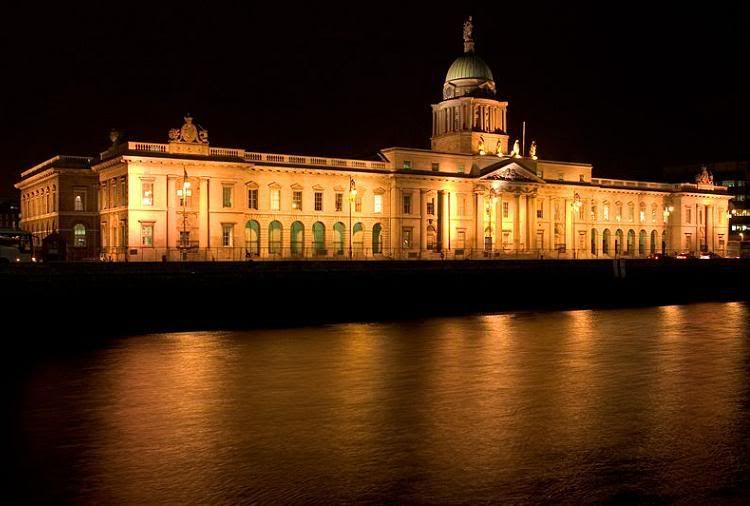 © Jimmy Harris
The finicky lighting of the pediment is also too contrived on a monumental facade (and nearly always half blown, as above), and the illumination of the drum and dome is paltry, lending nothing to its scenic qualities after dark. The statues likewise. The other elevations are more successful as the light is spread more evenly, but again the colour temperature and poor maintenance generates unflattering results.
If there's a saving grace about the Four Courts' miserbale effort, it is that the faint watery light cast about the drum has an effortful quality, giving the impression of it being a fruitless exercise trying to illuminate something so great, magnifying its monumental quality. However, the same can be said of much more powerful schemes, such as the lighting of the Capitol drum and dome in Washington, where distant floods convey a similar impression of greatness. The drum of the Four Courts is ideally placed to be expertly illuminated, as with the Custom House's, in pure white light, from lamps positioned around its base on the rooftop. Positioned close to the base of the drum, these would project a soft, gentle light upwards, spread perfectly evenly around its curved facade. This would emphasise its famous lantern-like quality, floating serenely above the city.
Its riverfront facade is considerably more difficult given the constraints of the narrow quay. However, a scheme along the lines of the new lighting arrangement at St. George's Church could prove a solution, where powerful floods are sunk flush into the adjacent pavement, generating a soft but potent illumination. Subtle back-lighting of the columns in the entrance apse would highlight this important central section of the building. And a big no-no to naff pediment strip lighting!
Of course all of this could be achieved using the very latest in energy-efficient, low maintenance LED lighting systems and equivalents. It's a shame there's no co-ordinated approach to floodlighting amongst state buildings in Dublin, never mind across public buildings at large in the city. Other buildings crying out for imaginative lighting treatment include the National Museum and National Library elevations on the near-pitch black Kildare Street, Iveagh House and the Rotunda, to list but a few. City Hall is the best we have: testament to what can be achieved with a properly designed lighting scheme.