I think it's time we start a thread on Dawson Street and its surrounding area, being as it is a distinctive historic quarter in the south city centre. Traditionally, Dawson Street has been a thoroughfare considered capable of looking after itself, with well established businesses and institutions in residence there, and its central location generating dependable activity and vitality.
Unfortunately, the reality is somewhat different and has been for some time, in terms of the quality of business there, the condition of the public realm, and the street's critical function as a pedestrian link to the museum district from the shopping district, and from Trinity College to St. Stephen's Green. These issues have gone entirely unremarked upon, during and after the boom, when in reality, Dawson Street in stark terms is becoming the next Westmoreland Street. This is worth exploring in terms of the future role of the street, both in its own right, and as an artery serving a complex network of streets and spaces in what is probably the most sensitive, delicate part of Dublin outside of the exclusively Georgian areas.
To get the ball rolling at the entrance to Dawson Street, word on the street is that Costa Coffee (MBCC Foods Ireland) have bagged the premier historic retail interior in the south city as part of its blitzkrieg on Dublin city centre of late – namely the former premises of the North British Assurance Company, more commonly known as Hanna's bookshop at No. 1 Dawson Street.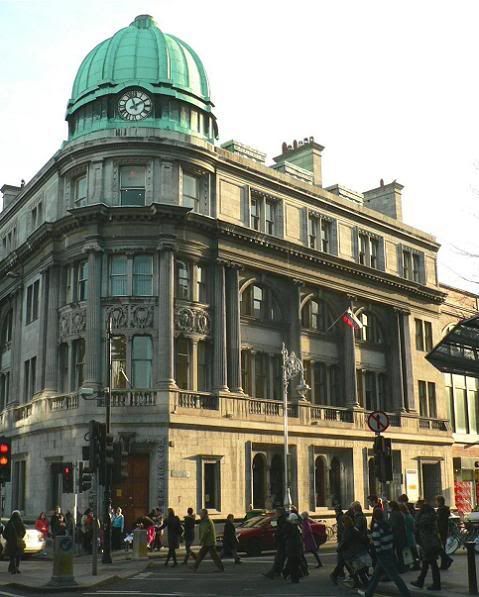 Aside from the architectural and planning implications, what immediately springs to mind here is the ankle-kicking frustration of the missed opportunity for Fixx Coffee, the independent, indigenous, Irish-owned and operated, premium quality outlet recently established further up Dawson Street, for setting up in this outstanding historic premises. A grevious shame for a street that has British and international multiples coming out its ears of late.
In spite of this, this was a highly interesting planning case, where the application for change of use from retail to restaurant use was refused by Dublin City Council on the grounds of the increasing dominance of food services in the Dawson, Nassau and Grafton Streets areas, to the detriment of established retailing, and against provisions in the Development Plan pertaining to non-retailing uses being considered on a case by case basis and in the context of a compatible mix of uses. However, in a convincing submission to An Bord Pleanála by the client's consultants, this decision was overturned, principally on the basis that this unique premises fails to perform on a viable level as a retail outlet, with recent ventures underperforming, and the failure of letting agents Lisney to secure any retail interest in two years of viewings. In spite of the building's dominance on the streetscape, the lack of window frontage, austere entranceway and lack of scope for signage, all mitigate against a successful pitch.
While I understand DCC's concerns, and the commendable attempt to uphold standards in the Dawson Street area, the decision probably did not take adequate account of the distinctive character of this premises. In addressing this specific issue, the Board noted from the 'Uses and Protected Structures' section of the (now old) Development Plan:
'where proposals relate to redundant buildings, including former financial buildings and places of worship, uses which are compatible with the original use and which facilitate public access to the primary spaces of theses buildings will be encouraged'
. Somewhat oddly, the Board's inspector also used the presence of similar outlets in the vicinity as relevant precedent for this application! The very opposite to the Council.
A number of tight and necessary conditions were attached to the application (which the Conservation Officer broadly supported on a wider level), including the omission of brass branded lettering on the entrance steps (er, niiiice), the provision of wall mounted signage only where existing incisions exist (disconcertingly, I don't think these are the best place for signage – over the windows), and quelle surprise, the omission of a red Costa metallic band the entire way around the building where there is a currently a black band (and a steel one before that for Eason). Any occupier of this premises love that darn band! They'll never do the right thing and dump it. A golden bean may yet be reapplied for over the entrance.
It is a shame that an international outlet of dubious fit-out standards has chosen this location, especially given the remarkably cheap fit-out of its new, supposedly flagship, College Green outlet with its flimsy oak veneered panels, nasty detailing and knock-off artwork with zero acknowledgement of place or context, slap bang in the heart of an historic urban centre. Jaysus, a token run of Malton prints blown up from National Gallery postcards would have lifted the place. Sadly, the proposed fit-out of the Dawson Street outlet also makes reference to that hideous 'oak walling' and its ilk, which has no place in its stunning mahogany panelled interior. This premises requires a tailored solution, with subtle branding employed through colour and soft furnishings. At least the Board threw out a raised platform and some of the proposed walling.
We await the product on what is an otherwise good planning outcome.
The building in which this premises is housed, Morrison Chambers, has always been one of my favourite buildings in Dublin and requires some exposure I feel, as it is a building of under-rated, outstanding quality. It is arguably the most accomplished Edwardian building in the city, including the entire 1910s and 1920s rebuilding of O'Connell Street and surrounding streets. In terms of architectural style, confidence, coherence and craftsmanship, this is a structure of remarkable distinction - no mean feat for the neoclassical school of the early 20th century, which more often than not failed to harmonise competing elements of streetscape context, modern functional requirements and ancient classical ideals into a singular, successful entity.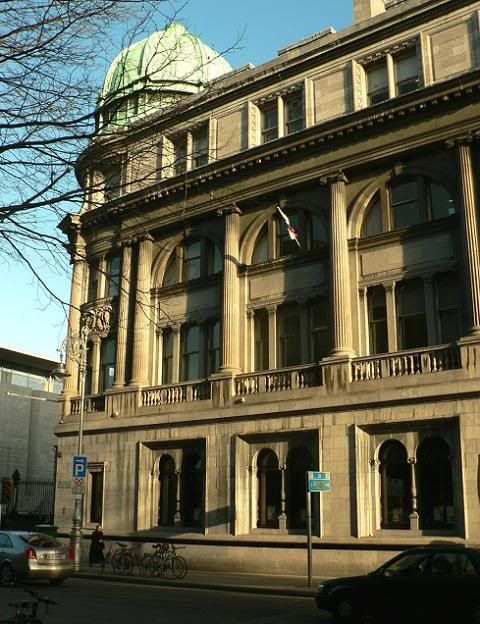 Morrison Chambers was built as the Irish headquarters and Dublin branch of the North British Assurance Company in 1902-3 to the designs of the leading Glaswegian architect, George Washington Browne – his name is incorrectly stated in numerous publications.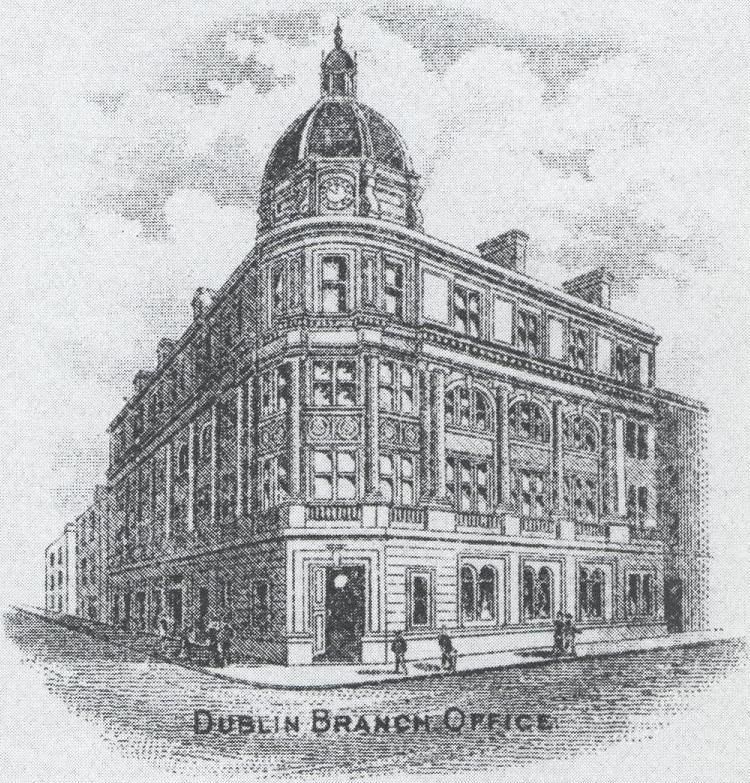 One of the most prolific architects in late Victorian Scotland, he and his partnership with John More Dick Peddie produced many of the most famous buildings in Edinburgh and other Scottish cities, specialising in particular in bank and insurance company premises. His heaving red sandstone pile of the Caledonian Hotel in Edinburgh bears a number of his trademark features as seen on his Dublin building: paired and tripartite corniced windows, paired columns, Diocletian windows and a chaste articulation of stonework.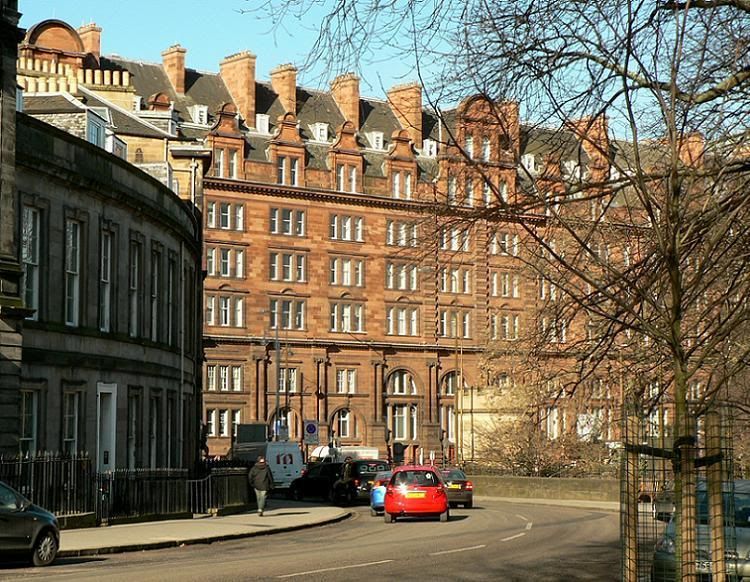 Dublin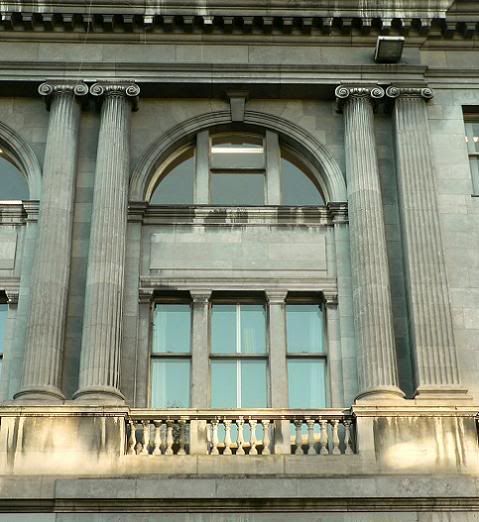 It is difficult to imagine the considerable impact this building had on the south city centre of the early 1900s. Not only was it one of the largest commercial buildings ever built in Dublin at this time, its streetscape context was also more modest than that we see today. It was designed to be seen and give dramatic new focus both to Nassau Street and Dawson Street, being built on the site of the long established Morrison's Hotel. The much lower building line that existing at the time of construction was approximately that outlined below – thus, the ebullient rounded corner bay and dome were visible from as far away as Suffolk Street.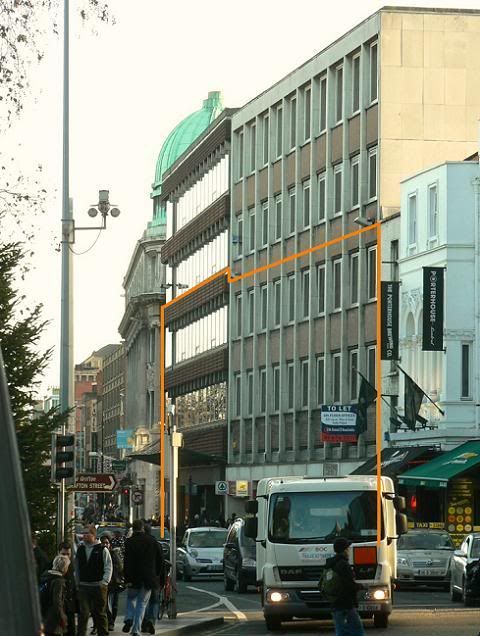 It must also have had considerable impact from within the Trinity campus.
Sadly, it is now only upon immediate approach to the building today that one gets a sense of its scale and grandeur.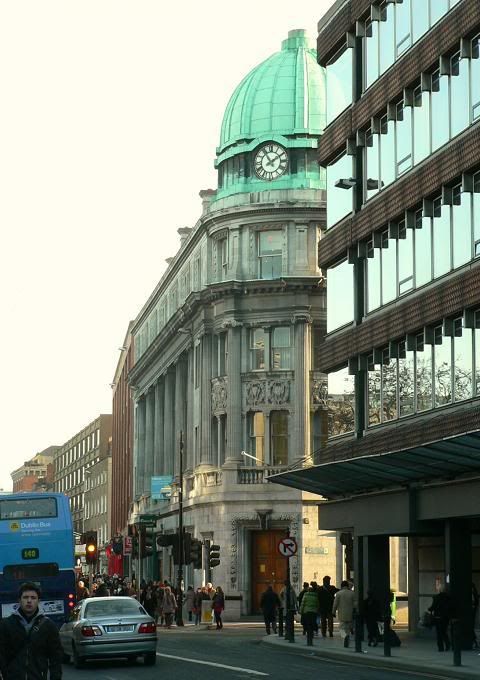 From viewing many of Washington Browne's buildings around Britain courtesy of Google Street View, it becomes apparent that this much-ignored building at the bottom of Dawson Street was one of his finest works – indeed, it is arguably his best. While other designs are generally more Edwardian Renaissance in style, with polychromatic use of stone, brick and terracotta, and fantasy skylines, none display the immaculate resolution of Morrison Chambers. This is an ambitious building in a number of ways.
Firstly, remarkably, it is faced entirely in one material – Irish limestone, probably from Ballinasloe. Not a single string course, cornice or balustrade is composed of any other stone. This marvellously ambitious conceit gives the impression that the entire building is carved out of a single block of stone – as if an immovable component of the urban landscape.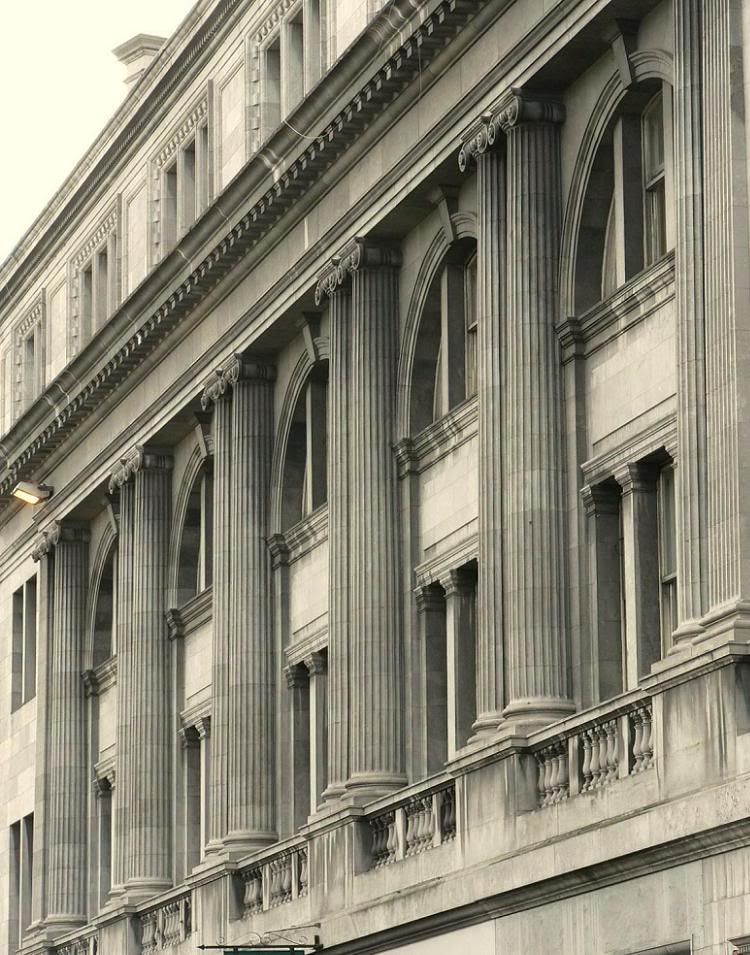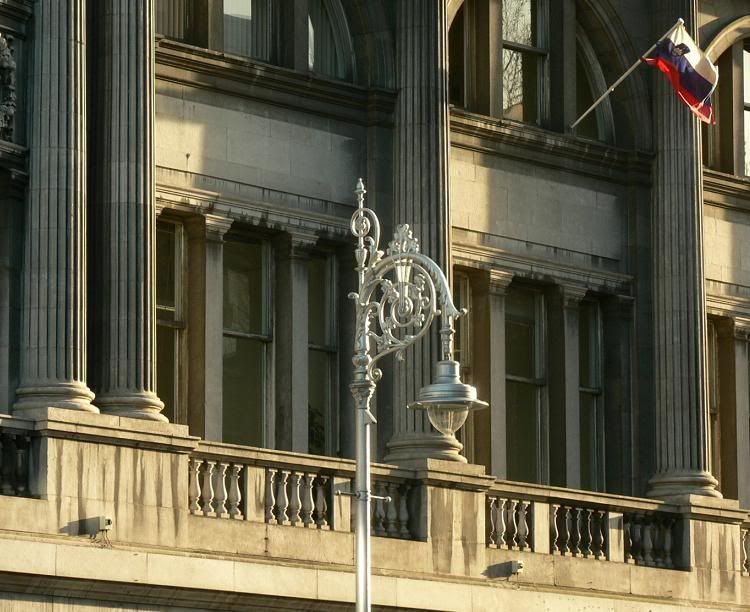 Secondly, this is a building that relied heavily on carefully balanced design and quality craftsmanship for impact. This it achieved with gusto, demonstrating a thorough understanding amongst architect and mason of the special qualities of limestone. It is exceptionally rare one encounters a building that so perfectly balances the joy of decoration with the satisfaction of stripped, spare expression. The detailing of this building is a delight.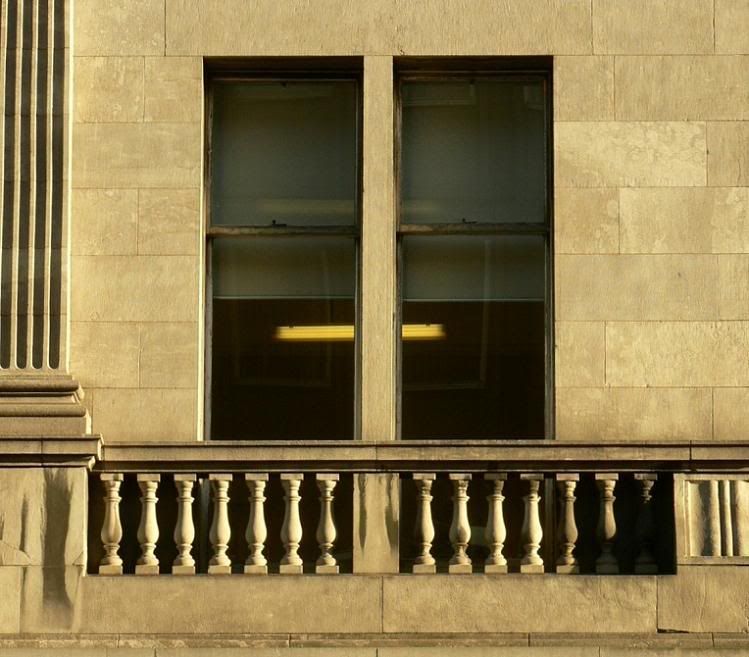 The chaste style Browne so preferred in all his buildings works to marvellous effect with his trademark paired windows. Are they Grecian? Are they modernist? Does it matter? What is so delicious about limestone is the less decoration is employed, the more the qualities of the stone are expressed. The central pier alone is a single, unbroken slab of stone.
Deep, crisp, chiselled voids define the ground floor.