22/8/2010
Skirting around the fringes of the early days of photography, we must rely on sketch drawings for perspectives of Cork Hill in the days before Lord Edward Street.
Henry Shaw's ever-helpful
The Dublin Pictorial Guide & Directory of 1850
shows a charmingly picturesque urban scene as viewed, somewhat optimised, from outside City Hall.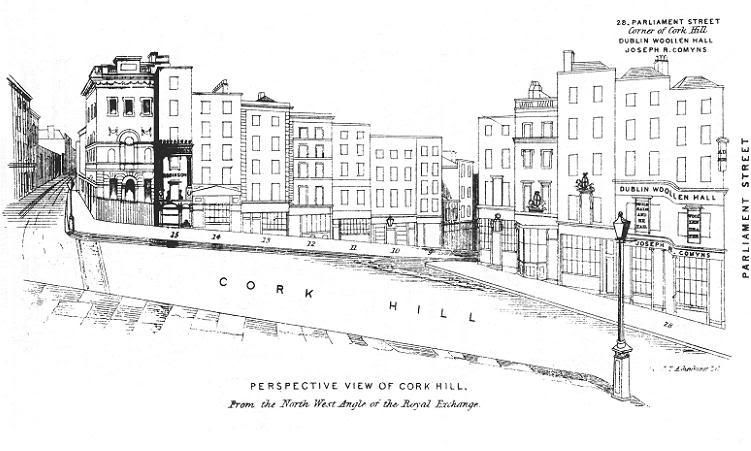 Tall Georgian commercial premises step up the hill from the entrance to Blind Quay on the right - now Upper Exchange Street - towards the Newcomen Bank in its pre-extended three-bay appearance on the left. The bank's main entrance is clearly apparent as being on Castle Street, which survives to this day with its associated entrance hall, while the Cork Hill elevation is railed with a basement well - this too was a secondary entrance originally.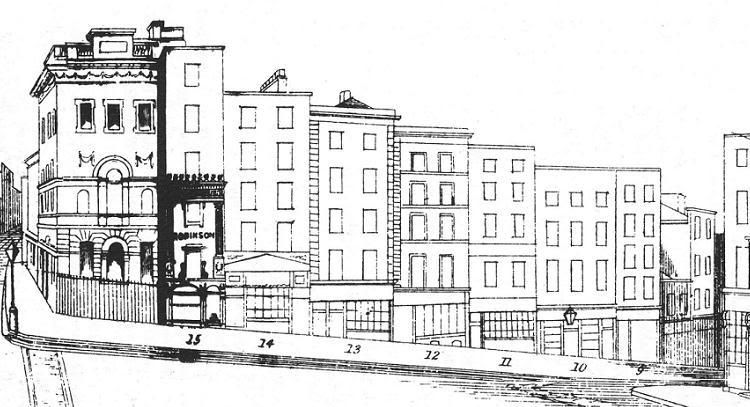 Of note is that in 1850, only one shop had modern plate glass windows (the vertical strips of the middle shop) while all the others retain quaint Georgian grids. The three-bay house on at No. 10 has its horizontal stacking shutters up.
Of the buildings on the right, remarkably all of these plots still survive. The Queen of Tarts is second from the left!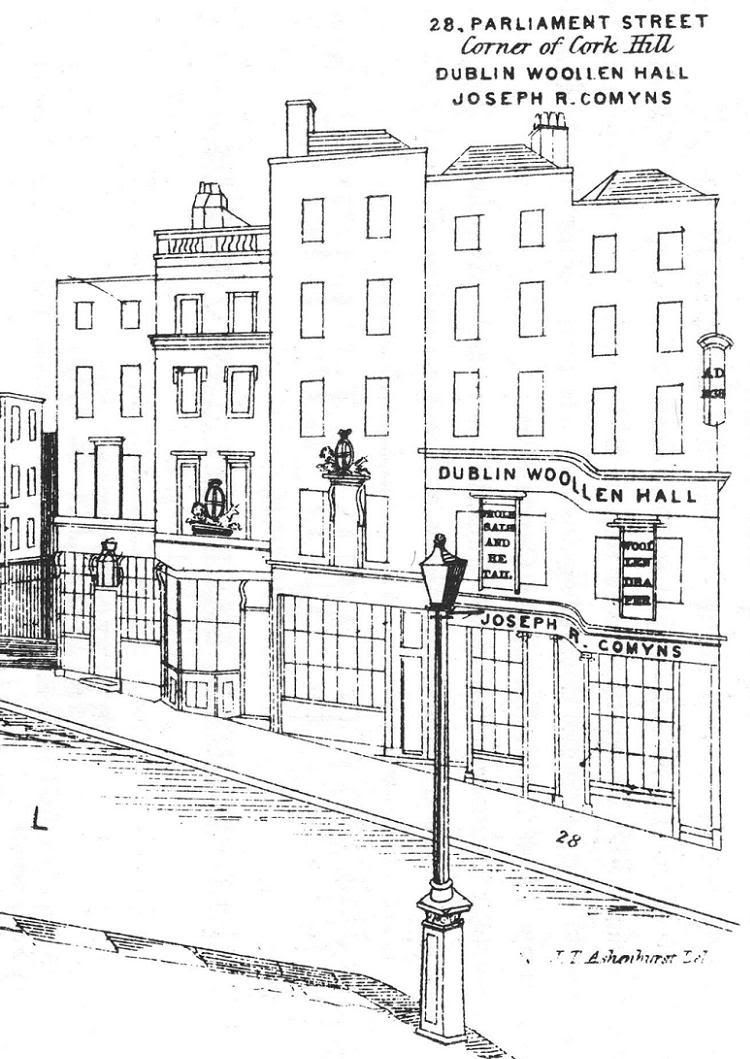 Indeed, the left-hand buildings possibly retain Goergian fabric behind their sober machine-made brick facades to this day, although I do remember reading a reference to the Exchange Street corner being comprehensively rebuilt - it may have been confused with the former newspaper offices on the corner with Parliament Street though. The viceregal warrants are a proud civic feature that has all but vanished from Dublin streets - sadly an element that could still be seen into the 1950s.
Turning the other direction and reeling back half a century, here is a rare view of one of the great institutional pairings in the city: the La Touche Bank to the left and the Newcomen Bank to the right. What a spectacle, when combined with the west front of the Royal Exchange, as one approached the gates of Dublin Castle. The steep incline, the gracious sweep in the road, the monumental sense of enclosure, the grandiose pretentions of the architecture: urban theatre at its very best.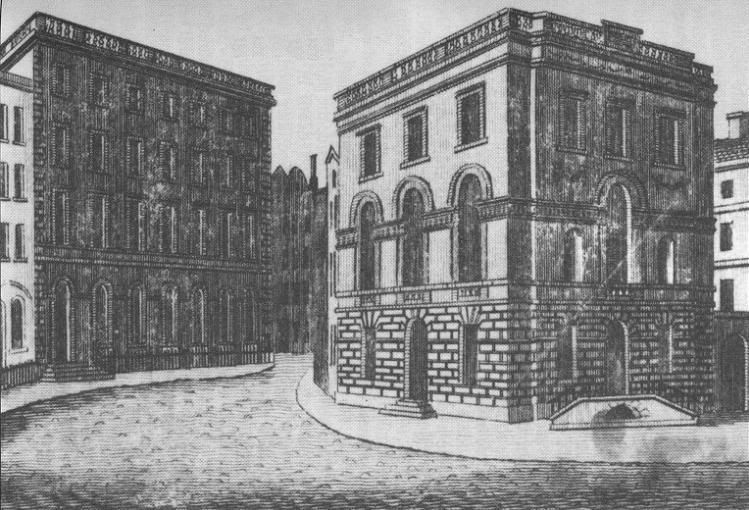 The print is taken from the December 1788 edition of the
Gentleman's Magazine
. In the background a few Billys are scribbled in to heighten the sophistication of the new.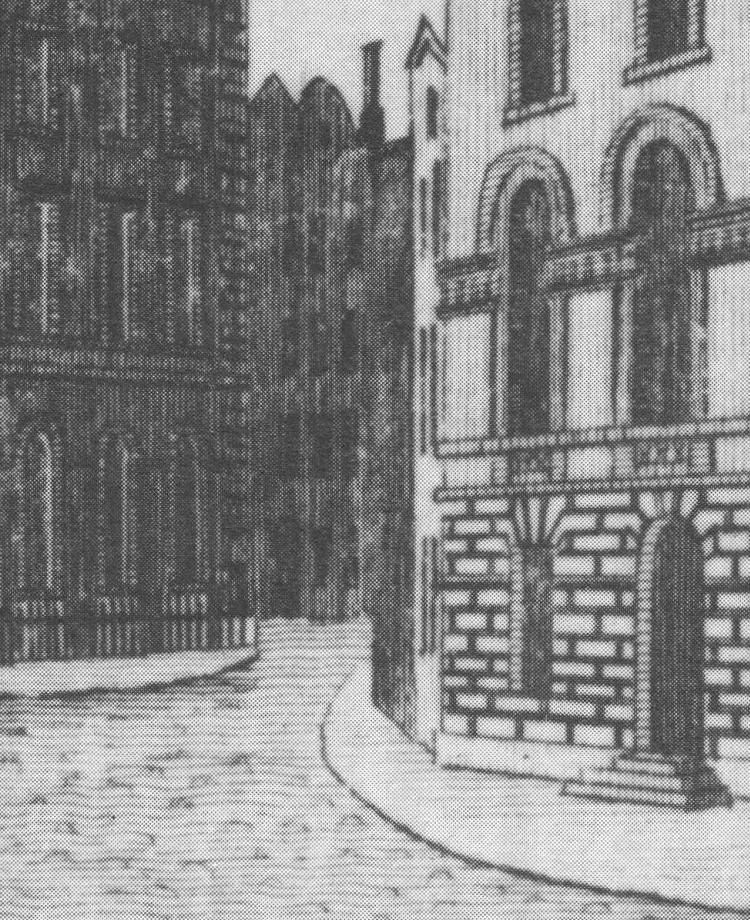 Christine Casey's memorable observation of the Castle being 'shamefully upstaged' by its sophisticated neighbours on Cork Hill is vividly brought home by such perspectives.