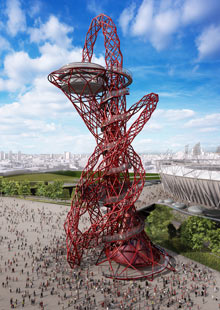 London's Eiffel Tower? Will it be built? It's not exactly pretty...

Designs for what will be Britain's biggest piece of public art, a 120 metres tall looping tower by the artist Anish Kapoor that people will be able to climb, giving spectacular views of London, were unveiled today by Boris Johnson, mayor of London.
anish kapoor An artist's impression of Anish Kapoor's giant work of public art planned for the London Olympic park. Photograph: PR

Kapoor's Orbit, a vast, snaking steel structure, will dominate the 2012 Olympic park. It is being hailed as London's answer to the Eiffel tower and is part of an ambition to make the Olympics site a permanent visitor attraction.

Kapoor won the commission from a shortlist of bidders believed to include the artist Antony Gormley and the architects Caruso St John. Johnson said of Kapoor: "He has taken the idea of a tower and transformed it into a piece of modern British art. It would have boggled the minds of the Romans. It would have boggled Gustave Eiffel."

The structure will officially be called the ArcelorMittal Orbit, after steel magnate Lakshmi Mittal, the richest man in Europe, who is funding it. Johnson said that if he and Mittal had not bumped into each other in a Davos cloakroom "we would not be where we are today".

Mittal said: "This project is an incredible opportunity to build something really spectacular for London, for the Olympic games, and something that will play a lasting role in the legacy of the games."

The structure will cost about £19.1m. Johnson said: "Of course some people will say we are nuts – in the depths of a recession – to be building Britain's biggest ever piece of public art. But both Tessa Jowell [Olympics minister] and I are certain that this is the right thing for the Stratford site, in games time and beyond."

Kapoor has collaborated on the project with his friend Cecil Balmond, one of the world's leading structural engineers. Approximately 1,400 tonnes of steel will be used. The plan is for work to begin soon with a completion date of December 2011.

Kapoor said one of his references was the Tower of Babel. "There is a kind of medieval sense to it of reaching up to the sky, building the impossible. A procession, if you like. It's a long winding spiral: a folly that aspires to go even above the clouds and has something mythic about it."

http://www.guardian.co.uk/uk/2010/mar/31/anish-kapoor-artwork-tower-london
Member
Posts: 41
Joined: Fri Feb 13, 2009 7:34 pm
Location: Dubberlin
---
DjangoD wrote:

London's Eiffel Tower? Will it be built? It's not exactly pretty...

http://www.guardian.co.uk/uk/2010/mar/31/anish-kapoor-artwork-tower-london
It will be built; its got a 1950's sci-fi meets meccano influence thats quite unique and different. It will need the park to be built and endowed as well if it is to become a visitor attraction in the same vein as the Eifel Tower in time . Stratford with this feature will still be Stratford; however with the O'Donnell and Toumey park it would be a decent afternoon in what has heretofore been an unlikely tourist destination.
PVC King
---
Nude Antony Gormley giant lost Olympic statue race

http://www.timesonline.co.uk/tol/sport/olympics/london_2012/article7094296.ece

Chris Gourlay and Cristina Ruiz

Antony Gormley, the sculptor behind the Angel of the North, planned to build a 390ft naked statue of himself to tower over the London Olympics.

The £40m steel colossus would have stood next to the main athletics stadium, pointing east to face the rising sun. The public would have entered Gormley's "body" through his feet and scaled the structure inside to reach a viewing deck in the head.

Details of the giant sculpture are revealed for the first time today by The Sunday Times. Gormley's vision was the runner-up in a competition held by Boris Johnson, the mayor of London, to create an iconic work of art for the 2012 Games.

The winning design, a £19m tangled knot of red steel by Anish Kapoor, was unveiled last month — immediately dividing critics. The ArcelorMittal Orbit, largely funded by Lakshmi Mittal, Britain's richest man, was variously described as a "mangled rollercoaster", a "mutant trombone" and the "Godzilla of public art".

Johnson, however, said Kapoor's sculpture represented "the dynamism of a city coming out of recession".

The mayor shied away from disclosing Gormley's design, saying the public "should not attempt to second-guess the wisdom of the judges".

The judging panel consisted of Johnson, Mittal and Tessa Jowell, the Olympics minister. Advisers to the judges included Sir Nicholas Serota, director of the Tate, and Julia Peyton-Jones, director of the Serpentine Gallery.

Sources close to the competition said last week Gormley's entry was not chosen mainly because of its higher cost.

The Olympian Man would have risen to a height just short of the Great Pyramid of Giza and was meant to represent the bond between humanity.

Visitors would have scaled Gormley's effigy by lift or on foot via a staircase winding up one of the legs to a viewing platform looking out of the face.

Gormley, 59, whose Angel of the North was erected alongside the A1 near Gateshead in 1998, has repeatedly used his own image in his art. Another Place, a collection of 100 life-size cast-iron figures along the shore of Crosby beach, Merseyside, has won the affection of local residents since it was installed in 2005.

Similar figures popped up at landmarks in central London in 2007 and appeared again in New York last month, including one statue of Gormley at the Empire State Building.

A source close to Gormley said his proposal for the Olympic Park in east London would have been "spectacular".

"The sculpture was sublime in the true sense of the word. It was monumental, vast, aweinspiring.

"I don't think Anish's piece is a disaster but Antony's would have been a lot better received — it had a stronger relationship with the Olympic ideal and the coming together of humanity."

Art critics were less impressed this weekend. Waldemar Januszczak, of The Sunday Times, said: "I feel Gormley has probably done enough plonking of figures around Britain, to be honest. I like his work, but I think Kapoor was a braver choice.

"Everyone likes a giant figure, a Colossus of Rhodes. It's a bit of a no-brainer. But if you want to create an Eiffel tower type thing, the less tied it is to one person the better."

Brian Sewell, a veteran critic and writer, said: "Gormley has just been making sculptures of himself ever since he started. This would simply be his largest. It's a very thin idea.

"It's obviously intended as the ideal Olympian man, but I find it rather ludicrous that a man approaching later middle age can think of nothing more than his own body as symbolising this, that and the other.

"If he were given a commission by the Church of England, heaven forbid, he would be Jesus."

Gormley declined to comment.
As they say pride comes before a fall
PVC King
---
I'm a bit disappointed as I loved the work that Anish Kapoor had in his Malaga exhibition a couple of years ago, particularly the large soft red wax "clock" that revolved and dripped wax, changing shape the whole time.

Also he made beautiful blood red discs that were very reflective and inviting.

This does, at least in this image, look like a "mangled roller coaster".

Kapoor is a fine sculptor so it will probably look better when made.
Member
Posts: 5
Joined: Fri Apr 16, 2010 8:48 pm
---
---