StephenC wrote:This London-style rank of pointless bollards unfortunately left in place. And that bloody fencing.
Came across a response by the City Manager to a councillor requesting the removal of this fencing:
Due to the design of the building with numerous nooks and crannies the harris fencing is preventing rough sleeping, loitering, dumping and anti-social behavior. It also allows Gardaí and security staff to see if anyone is in behind the fencing. Although its appearance is not aesthetically pleasing it is serving its function and it would be better to leave it in place until the building is occupied, than to have it removed or replaced with a hoarding.
Old Master
Posts: 2479
Joined: Sun Jul 15, 2001 11:00 pm
Location: Dublin
---
Apparently this is the photograph that the
New York Times
used to depict Dublin in their 46 places to visit in 2013 travel guide.
The tag line was
'The emerald isle reaches out with an ancestral celebration'
, a reference to
The Gathering
, about which, more later.
Not a lot of 'ancestral celebration' evident in the streetscape presentation, as currently being discussed on Joe Duffy. Tourism heads might cringe at the picture choice, but this was an accident waiting to happen, they could have taken shots in Thomas Street or James Street, with the same streetscape horror show.
Old Master
Posts: 1905
Joined: Wed Jan 16, 2008 9:33 pm
Location: Dublin
---
I saw this too on Twitter a few days back. Shocking picture to use and really unfortunate for the powers that be who like to present that I need to go I need to get away from everything' view of the city. But you make a valid point of course.
What about that classic view of the Ha'penny Bridge...with that monstrous canopy over the door. Its been brought to the attention of so many city officials but none of them care to be frank.
Or think of The Dubline...Dublin's emerging high quality tourist trail. Look at Dame Street. A parade of takeaways and pubs at this stage. I see a Subway going into the Londis close to College Green...the handy way of getting a fastfood operator in without needing to fuss about with planning permission. Elsewhere on the street kebabs, chinese buffets, chipshops, dubious burger bars, etc abound. You would be hard pushed to find an actual shop. I imagine the next step is less and less daytimes uses as nighttime becomes more lucrative.
All this along what should be one of the city's premier streets.
Old Master
Posts: 2479
Joined: Sun Jul 15, 2001 11:00 pm
Location: Dublin
---
Smithfield in 1999, two makeovers ago: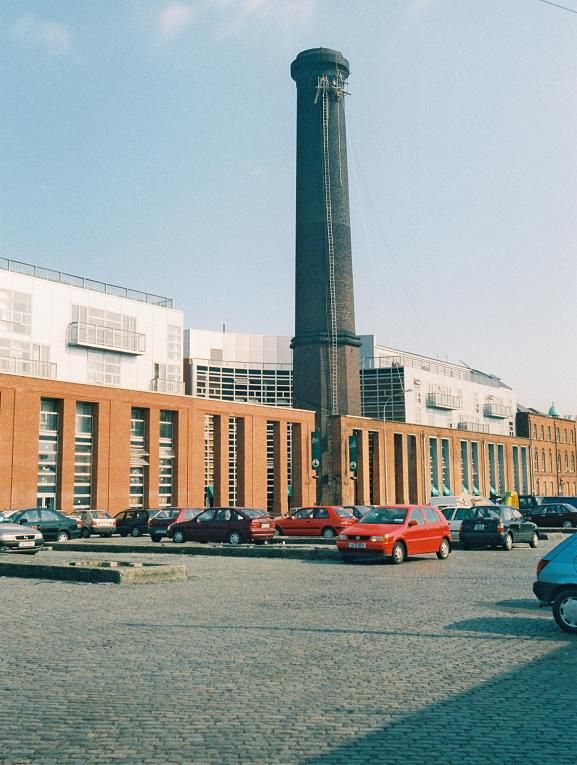 There'll be another one in 2020.
Rationale: "The 2011 scheme is considered to have introduced a busy variety of elements and textures into the 17th century square. The current scheme sees to re-establish the original open character of the market place with a consistent, uniform treatment across the ground plane." lolol
Member
Posts: 65
Joined: Mon Aug 08, 2011 8:26 pm
---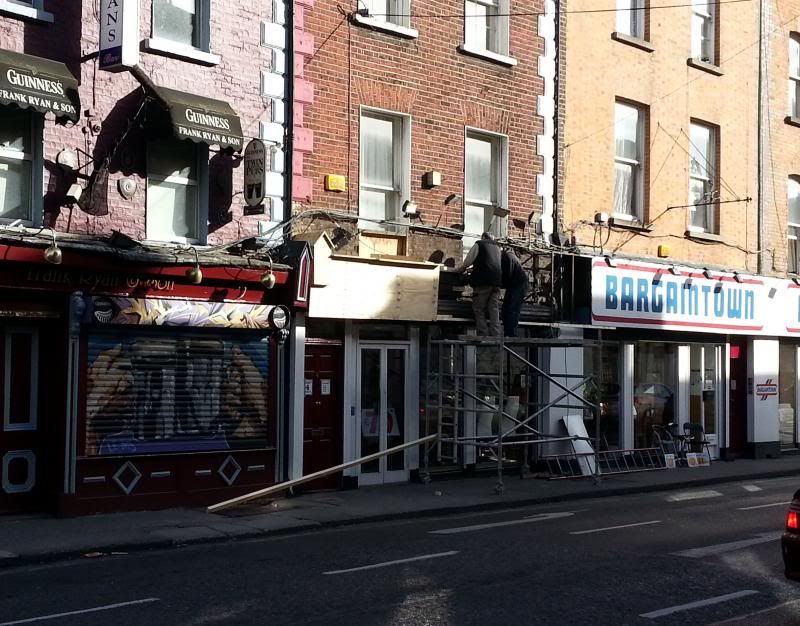 New shopfront being erected without permission today on Protected Structure, 4 Queen Street.
Member
Posts: 65
Joined: Mon Aug 08, 2011 8:26 pm
---
Sure this is happening everywhere now. With impunity. The Planning Department such that it remains, has totally given up on even a semblance of enforcing the planning code in the city. It is the ultimate non-department.
This fantasy in plastic on Capel Street (an ACA)
However, we must ask the question. What can be done differently. The problem is so pervasive and most businesses would now see it as an intrusion to require planning to 'upgrade' their premises, particularly in the current environment.
No one can agree on good design, no one can agree on what colours works and what don't, no one can control what premises are doing on a daily basis. In most instances painters etc will be in and out before anyone has even realised. No one can control the laminated plastic industry that has grown as fast as the traditional shopfront practitioners have declined.
The planning system is a also problem. Its far too complicated and expensive to get permission for shopfront changes. It should be simpler...but with clear rules as to what you can and cannot do. The City Council's guidelines need to be revised and made more accessible. In this age of the ubiquitous web this stuff should be all online.
Old Master
Posts: 2479
Joined: Sun Jul 15, 2001 11:00 pm
Location: Dublin
---
---