Given St. Augustine's distaste for all matters lustful, to put it mildly, one can safely assume that his view of the newly completed apartment scheme by Danninger Ltd on St. Augustine Street, just off Thomas Street in Dublin 8, in all its perverted, gluttonous, dribbling desire for fistfuls of hard cash, would not exactly be his cup of lightly flavoured lemon tea.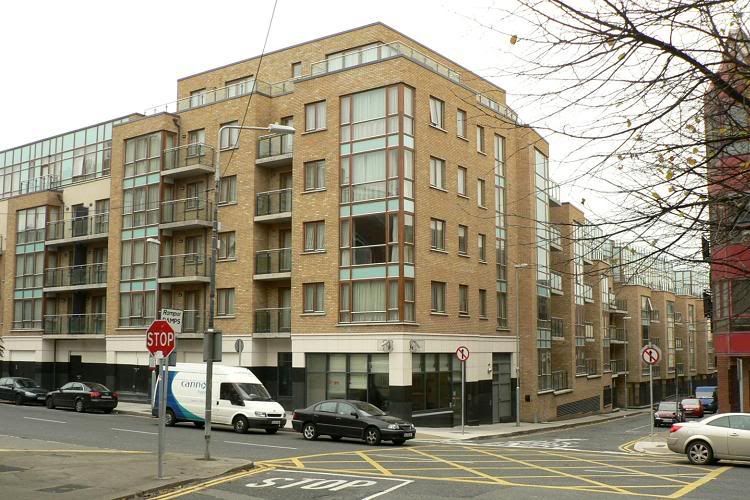 I first passed this development about two years ago when construction was underway. At that early stage, to all external appearances this seemed to be one of the most exciting developments taking place in the historic centre of Dublin for many years. It appeared to involve the creation of a brand new residential street layered over an existing historic route: graciously curved, of good density, attractive design, with a solid use of materials and a considered approach to the public realm.
Nothing could prepare me for the sight that greeted my eyes two years on, today. Words cannot in any way impart the horror of what has transpired at this location, nor can they on grounds of libel alone. Truly, the anger that wells up inside any decent-minded person standing on this so-called street is enough to shatter every expressionless double-glazed pane in the development.
What on earth is going on here? This is supposed to be a street?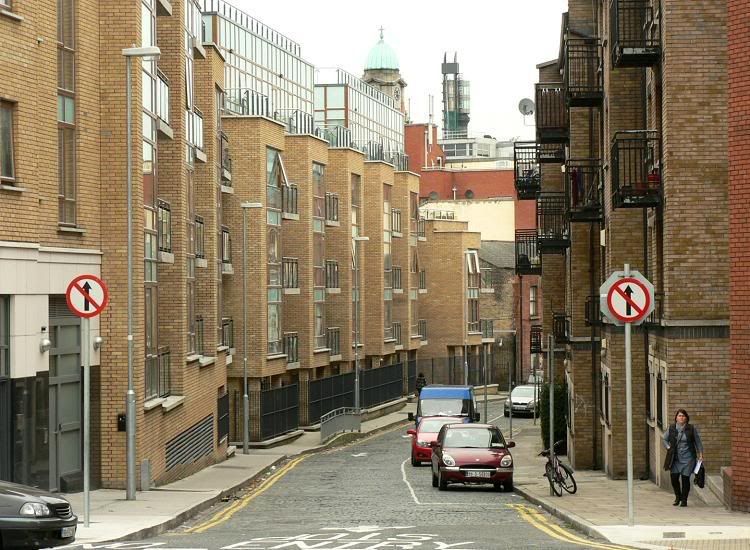 The entire terraced frontage is barricaded in by jazzed-up palisade fencing.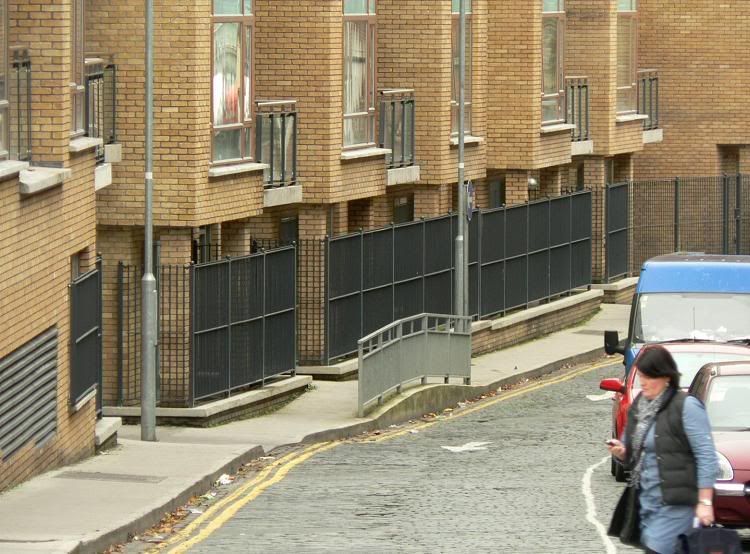 The imprisoned frontage of each property.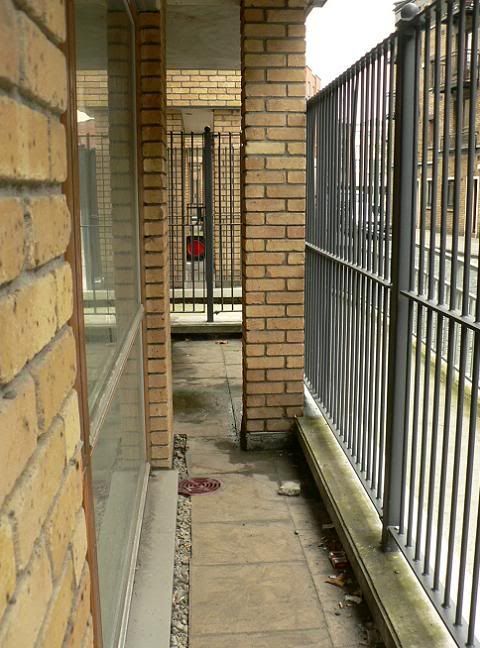 Just criminal.
The soffits are, well, unadorned, screwed-up (in every sense) slabs.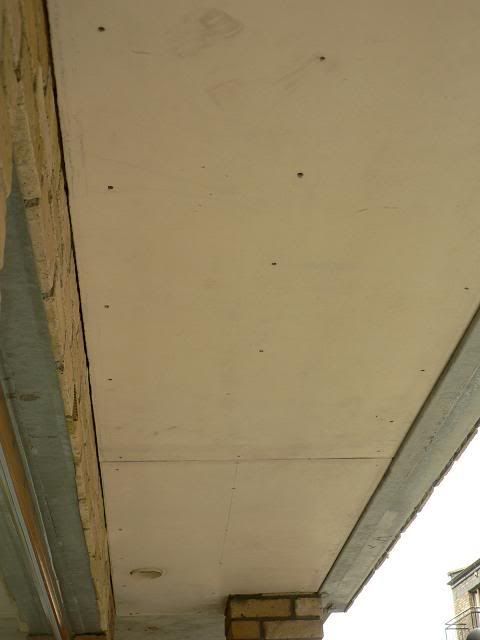 More of the same scandalous treatment at the Liffey end of the street, with straggling remnants of old decency that Carroll couldn't get his hands on.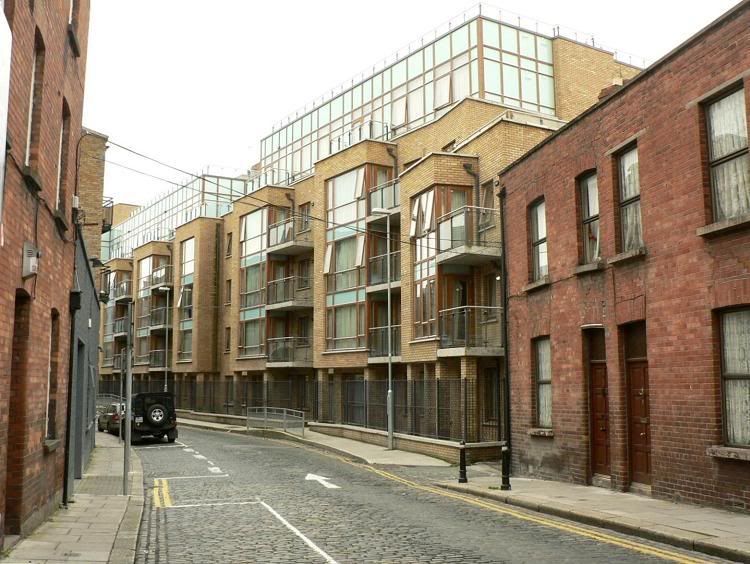 It's so horrific, one might even confer praise on the rubbish forming the other side of the street – presumably also by Danninger – which at least gives some sense of own-door access and hospitable windows, if also barricaded, directly addressing the street.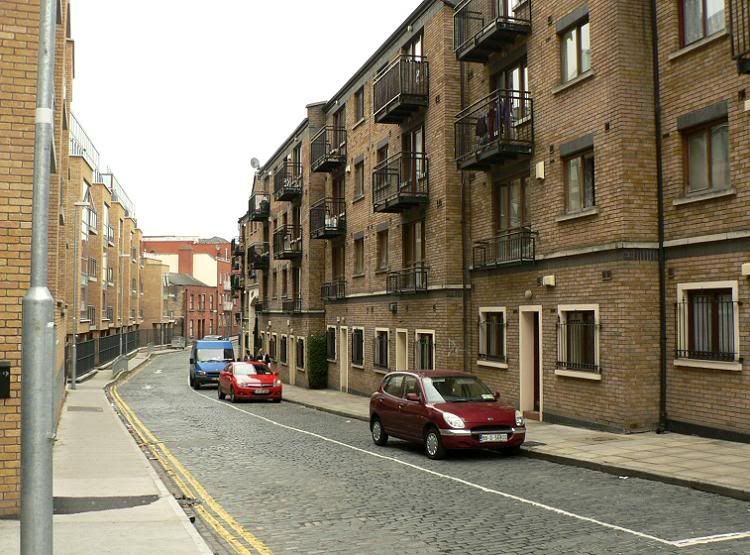 This new development generated no less than €127,200 for Dublin City Council in development levies. This is actually a modest figure in the wider frenzied context of the height of the boom years, and is likely to be tied to one of the older planning permissions connected to the site. In any event, none of this has been reinvested in the public domain.
The public face of the street is comprised of a shockingly relaid setted road surface, poured concrete pavements - already pock-marked with splodges of tarmac - utilitarian, galvanised steel lampposts, not a stick of a tree or soft landscaping of any kind, and industrial crash barriers to prevent children and buggies rolling out off the insanely high pavements into the road – as Danninger also employed in their Hanbury Lane scheme nearby.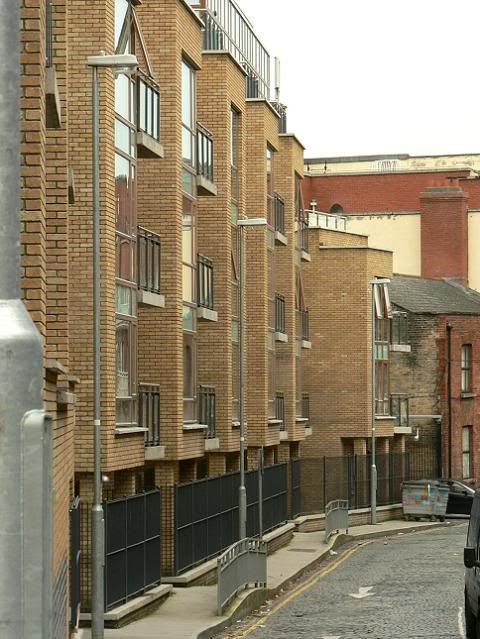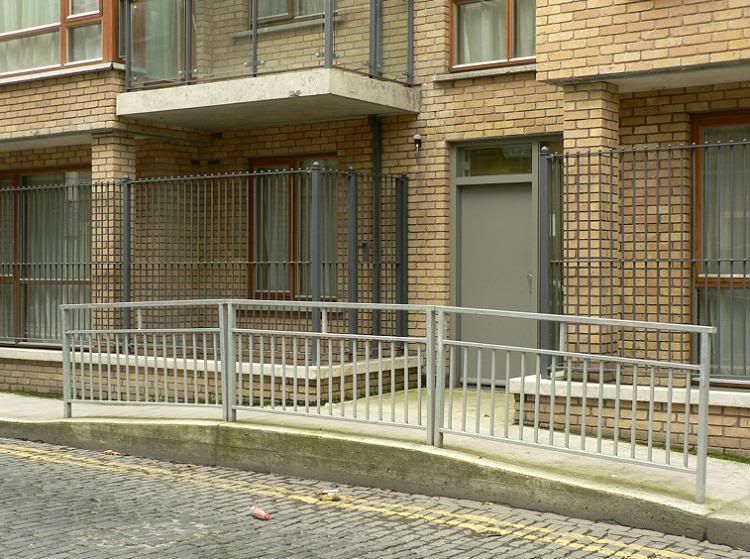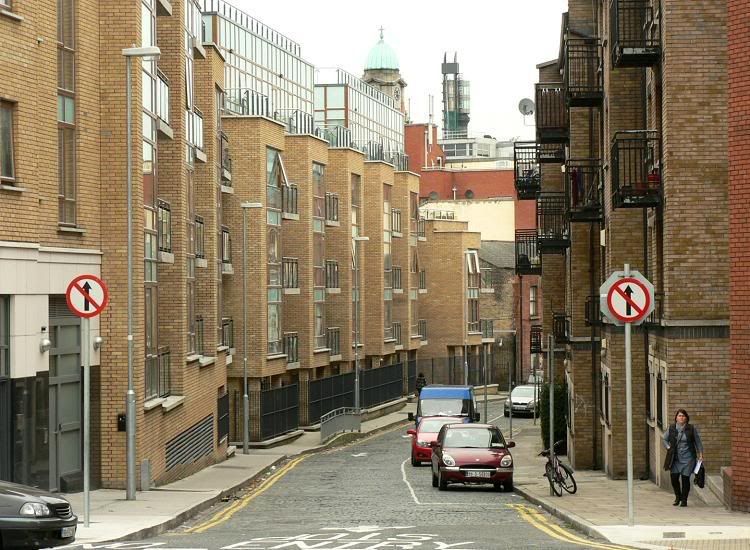 All professional bodies, from architects to planners to road engineers, are damningly indicted by this development. What could have been the most desirable new street in Dublin, lined with a mixture of own-door townhouses and shared entrance apartments, creatively designed with stimulating architectural solutions, a beautifully pedestrianised public realm with clever references to its historic past, and all directly adjacent to the Liffey, has instead resulted in one of the worst possible planning and design outcomes.
There's little point waxing on endlessly about this scheme – parts of which actually aren't bad in terms of choice of material and detailing – as the pictures speak for themselves. Rather, this is just to note that the shameful practices of Ireland's construction and planning sectors, that we are generally perceiving to be behind us at this point, are still happening.
Finally, just to say that anybody who contributed to the Tribute to Liam Carroll thread truly needs to get a handle on reality. He and his myriad companies have almost single-handedly blighted this sector of the city – north and south of the Liffey – for decades to come, committing generations of city dwellers to what Dublin City Council itself has publically stated to be substandard forms of development, and thus a substandard quality of living. It is not all-giving philanthropy we are looking for, or were ever looking for, from these guys - it's a basic, human, social conscience. The above merely confirms that their despicable practices, however cloaked in token architectural gestures in latter years, continued until the bitter end wherever they could get away with it.