Crumlin is a fascinating place. Its vast tracts of housing were built as the great hope for solving Dublin's housing crisis of the early 20th century, but then went into a dark period about ten years later once the young, often disadvantaged families began to grow up, stigmatising the area, but now it is going through a revival of sorts as the population has mellowed and aged and the 'troublesome' generation dissipated, with new families now moving back into what are now highly desirable homes close to the city centre.
A lot has been written about the great Corporation schemes of the 1930s-60s, particularly the flat complexes, but not so much of the suburban housing constructed, and least still of their architecture. The book 'Shaping the City and Suburbs' seems to have a good bit on it though – hope to get hold of it soon.
The Crumlin housing as it exists today itself reads as an open book, reflecting cultural and societal trends to an extraordinary degree – most prominent of all of course being individualism.
Indeed it is the result of this very practice that forces you to look down from above to see the Crumlin Scheme as originally built. This is an OS map of the area – you can see how beautifully planned it is: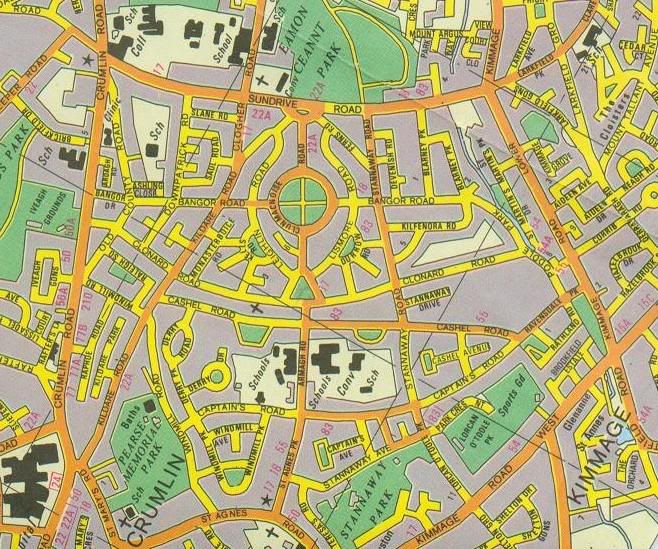 …all linking through to Crumlin village at the very bottom.
(apologies for the poor quality of the pics below - very rushed)
Mostly designed and built in the 1930s, the basic house unit is quite modernist in style: streamlined, clean cut lines, stripped of virtually any decoration, with the aesthetic relying on the bold structure of the buildings, the paint colour used, and the simplest of render detail in the form of a distinctive band running across the middle of every house, and around doors and windows. They have an almost classical elegance, particularly the doorcases: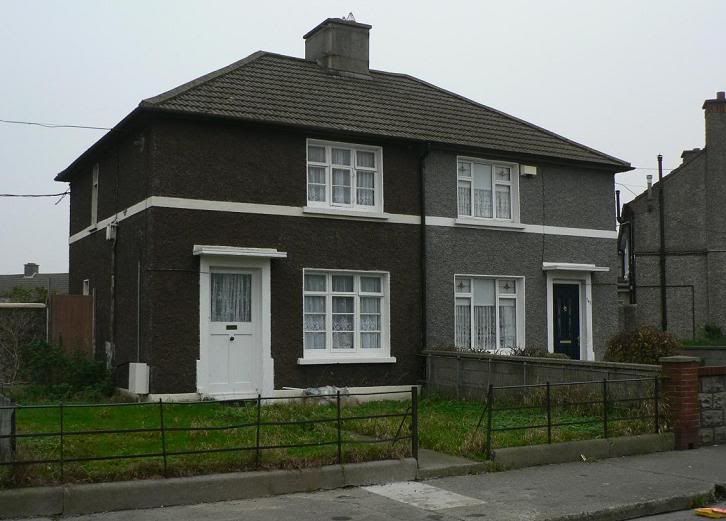 For the most part the units are not built as semi-detached as above – these were only used as infill or on corners – but rather as part of terraces such as these: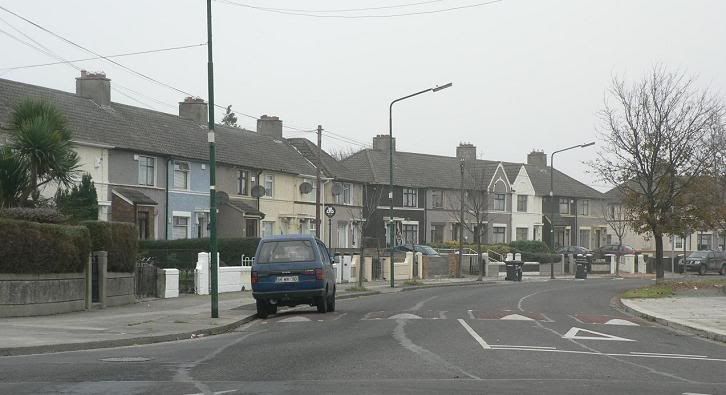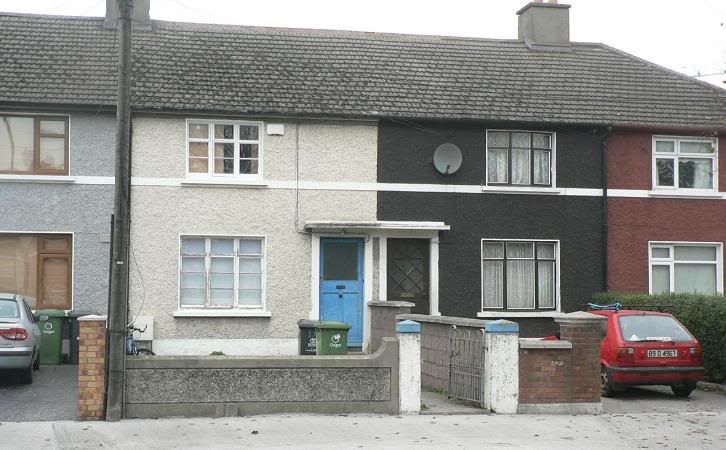 There were three main house types: the Mk 1, the Mk 2 and Mk 3 – the first being a two-bed mid-terrace, the second a three-bed mid-terrace, and the third being an end-of-terrace which is usually 3-bed. Most of the houses are built of solid concrete (not sure if this is cast concrete or cavity block though), making them incredibly solid, seemingly well insulated, and completely sound-proofed from neighbours. The interiors feature quality carpentry in doors, architraving, skirting and stairs.
As most people in Dublin know, it is the latter corner house that is highly coveted
, either in the form of an end-of-terrace or a signature corner house at a crossroads of which there are many beautifully laid out examples.
Corner houses were often given 'special treatment' like the Wide Streets Commission corners of old, with classic wine-bricked ground floors:
…or just featuring a posher string course of brick rather than render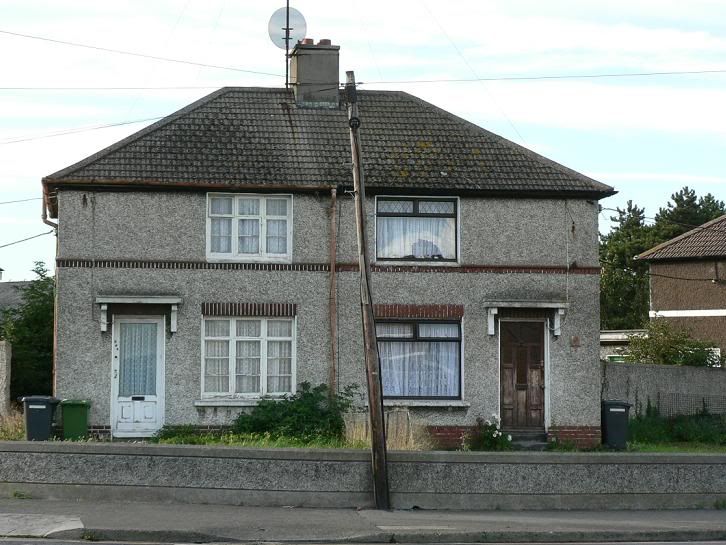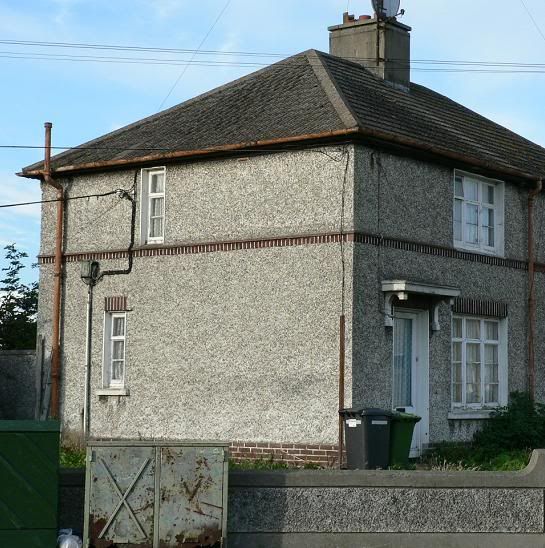 It is without doubt these carefully laid out crossroads punctuating linear streets that is one of the most appealing aspects of Crumlin housing. Which is where the rant begins
Why why why must we allow anything that is good in this country fall to pieces for the sake of individualism and parish pump politics?
Why in the name of all that is sane was the Crumlin Corporation housing scheme not protected from the inevitable utter insanity that prevails today?
Why is it that in Britain local authorities protect and enforce letting contracts in even the most depressingly bog standard, sprawling 1950s estates, yet in Dublin the Corporation couldn't have given a toss as to how its flagship scheme built with such pride and optimism ended up?
Why when it started selling off its stock c.1970s did it not do so under strict lease conditions, indeed any conditions at all?!
It is so depressing to walk around these once fine areas and see the most arrogant, self-absorbed, selfish, self-centred preposterous alterations being carried out to units in this planned scheme, with not so much as the slightest input of any planning professional.