Some of you may be aware that theyve been replacing the horrible composite panelling and brick work on Drury Street Carpark.

One side is now available to see, covered in galvanised metal panels... looks so-so close up but I think looks well from a few yards back..... looking forward to seeing it completed.... Cullen Payne Architects

if only they would do something with the edge where it runs into the old Winstons store....
Old Master
Posts: 5417
Joined: Wed Mar 03, 1999 12:00 am
Location: Monaghan
---
Aye ...I agree......I remember reading about this car park getting a makeover years ago......maybe cause of limited funds ..but it has taken ages to happen. This car park really fits ugly up against the Winston stores...what a disasterous design...and how the Corpo could ever let it happpen is beyond me.....Let's hope they have come a long way since those massive mistakes.......and let's herald hopefully an era of correct understandable urban design in our Capital City of Dublin and which will set the standard for the rest of the country. Here's to 'Urban Living'
Old Master
Posts: 1610
Joined: Tue Oct 31, 2000 12:00 am
Location: Dublin, Ireland
---
The cool thing about the join to Winstons is the segment of the old building that was left behind. I don't know what it originally looked like, but I'm reasonably impressed by the two foot wide segment that has somehow managed to hang on for dear life.
I'd hate to see them take it away now....
fjp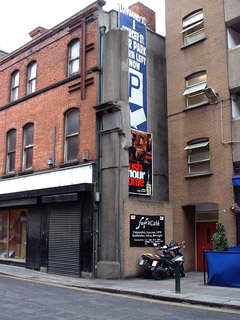 Member
Posts: 219
Joined: Fri Jan 25, 2002 12:00 am
---
---
---
The stub of the old building is now gone and replaced by some very cheap and nasty looking red brick better suited for an estate in Naas.
Old Master
Posts: 5417
Joined: Wed Mar 03, 1999 12:00 am
Location: Monaghan
---
---