Another of the country's most significant modernist buildings, Stirling & Gowan's Leicester University engineering laboratory, could be partially demolished, the university signalled this week.

The grade II* listed building, described as "quite exceptional" by Kenneth Frampton, is the subject of an open-ended feasibility study, with the main tower set to be left unchanged while options for the workshop and south block range from demolition to adding extra storeys.

A shortlist of five architects has been drawn up, which BD has learnt includes John McAslan & Partners.

The university said the building was not energy-efficient, included asbestos insulation, and suffered from the deterioration of alloy glazing bars.

Senior building surveyor at the university Jim Whait said: "You have to consider where the university stands. Finding [£6-8.5 million] for this refurbishment is a hell of a lot when we're struggling to maintain all our estate."

A heritage source criticised the university, claiming the building could be "radically affected. This is possibly the most important post-war listed building in the country," he said.

"The university knows it is listed but has no idea why, and considers its listed status an impediment to its future development plans."

McAslan defended the open-ended brief: "Inevitably, certain options will be considered more seriously, but you can't eliminate any before you do the work."
Old Master
Posts: 5417
Joined: Wed Mar 03, 1999 12:00 am
Location: Monaghan
---
It's an ugly building, to be honest, and I believe it's a horrible building to work in too.

Don't see much reason for keeping it.
Member
Posts: 163
Joined: Tue Feb 14, 2006 3:21 pm
Location: London (Orignally Dublin)
---
Dont be bloody ridiculous.
Posts: 427
Joined: Tue Aug 19, 2003 11:18 am
Location: Dublin
---
If this building gets demolished or seriously changed by refurbishment, my faith in humanity will be severely shaken...
Definitely one of my favourites, one of the buildings that made me want to be an architect when I saw images and read the story of it's construction in Jim Stirling's biography. Still hugely impressive in the flesh though obviously unloved by the university. At least If McAslan is involved there will be a bit of sensitivity in what they do.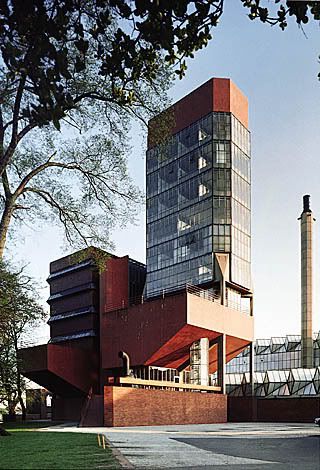 Love it!
Member
Posts: 260
Joined: Fri Mar 12, 1999 12:00 am
Location: Galway
---
Member
Posts: 451
Joined: Sat Apr 02, 2005 11:14 pm
Location: Middle Earth
---
---