Anyone know if Permanent TSB are moving to Abbey Street?

And hello to you all.
Member
Posts: 2
Joined: Tue Dec 11, 2007 1:31 pm
Location: Dublin
---
They're already there. Corner of Abbey St. Lwr and O'Connel St.
Member
Posts: 185
Joined: Mon Feb 21, 2005 4:10 pm
---
They also left a premises further down Abbey Street when they merged.
Old Master
Posts: 2479
Joined: Sun Jul 15, 2001 11:00 pm
Location: Dublin
---
I think he's referring to the movement of the headquarters from St Stephen's Green to the Irish Life Centre - should be happening subject to PP wor the demolition of part of the Irish Life centre and replacement with a new 7 or 9 storey on the Marlborough st side
Old Master
Posts: 1331
Joined: Mon Oct 16, 2000 11:00 pm
Location: Drogheda & Blackrock
---
Sorry I should have qualified my question with are they moving "in a big way". I know they are selling / have sold their offices on Stephens Green which house 1200 staff. Is there any sign of redevelopment work to the existing offices on Abbey St. which would be needed for such a large influx of people. That whole area is undergoing a bit of a revival.
Member
Posts: 2
Joined: Tue Dec 11, 2007 1:31 pm
Location: Dublin
---
7/4/2010
A little-reported fire that broke out in No. 68 Middle Abbey Street a little over a week ago has virtually gutted the early 20th century building. A giant plume of smoke billowed over the city that night as a number of units of the Dublin fire brigade attended to the blaze - the smoke visible as far away as College Green.
The aftermath.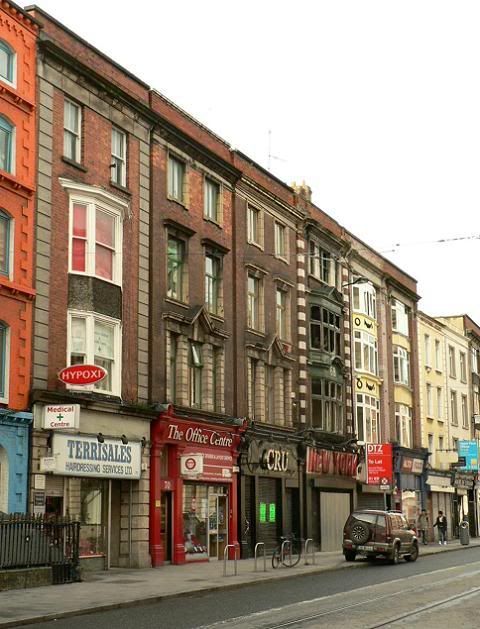 Thankfully it was neither of the oldest houses on the street that went up (the two rendered buildings on the far left above), but an unfortunate level of damage was inflicted on this decent Edwardian-style premises. Apparently the fire started in the launderette at ground floor level.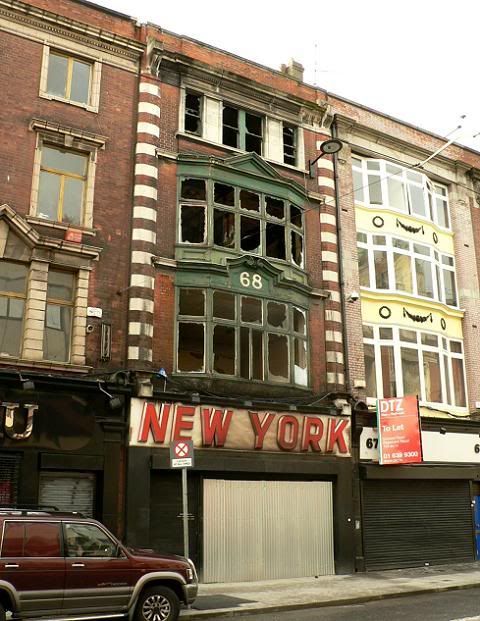 The shop front is unusual in that it appears to date to the 1960s, with what is large vitrolite lettering according to Christine Casey, sharply edged in bands of chrome. Hardly the most sympathetic of additions to a building of this type nonetheless.
The timber oriel window is intact and capable of restoration.
Very nicely detailed up close.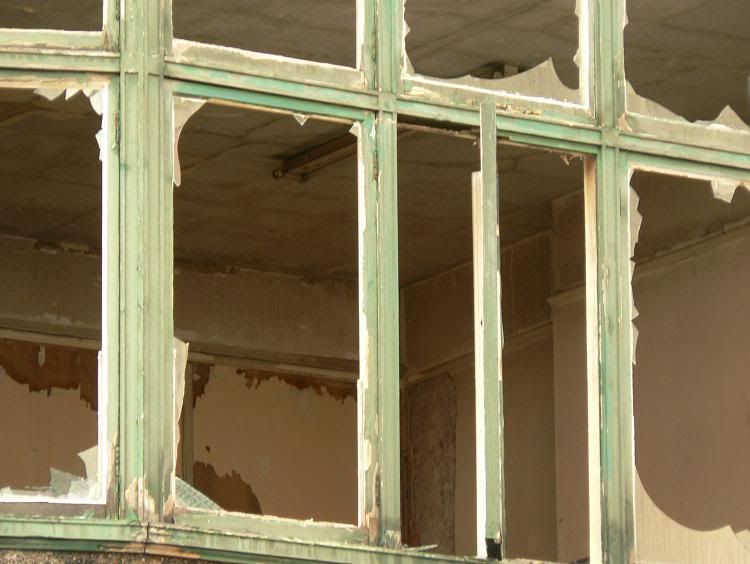 The interior was, unsurprisingly, modest. Once one moves beyond the first room or two, however, the building now falls away to nothing. Peering through the front shutter, a scene of utter devastation greets the eye to the rear of the shop. The large warehouse-type structure attached/incorporated into the back has been completely destroyed, with launderette trolley carcasses standing eerily about.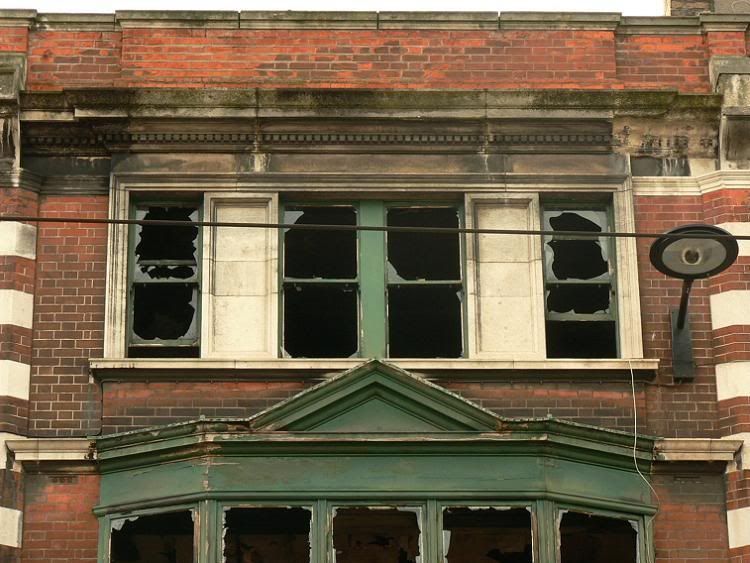 Exceptionally fine apartments (and now with double-glazing retro-fitted for the mod cons-inclined) could be accommodated on the second and third floors. Streets like Middle Abbey Street hosting residential populations in well designed upper floors are key to the long term vibrancy of the city core. So few secondary streets are capitalised on in this way.
With cleaned brickwork and stone dressings (No. 68 is unusual in its use of Portland stone, where terracotta is more typical on buildings of this type) and a restored and crisply repainted oriel window, this building could lead the way in setting a standard for the optimum use of early 20th century purpose-built commercial premises, with retail at ground floor level and maximised use of upper floors and backland areas. These buildings, as we are continually seeing on Henry Street, in spite of being somewhat derivative in style, are greatly undervalued in terms of their contribution to the city centre in terms of architectural variety and flamboyance, streetscape grain, expansive floorplates and ease of adaptation.
Old Master
Posts: 4579
Joined: Tue Oct 15, 2002 10:24 am
Location: Ireland
---
Some eysbrows may clear faces, but this was my favourite sign in Dublin. Simple, effective and had the words 'New York' in it.. shame to see it go..
Member
Posts: 124
Joined: Mon Feb 09, 2004 1:22 pm
Location: Echlin St
---
---