But of course it does1 A vacant unit versus a teaming coffee shop offers little in the way of dispute as to which is better. A discount shop also would not be allowed open on Dawson Street (one hopes). This matter simply relates to signage et al. Of course the lettering above the entrance is fine - that is all there should be. All the other tack, including the cheapo fascia inserts in the windows, the circular sign, and the rubbish around the entrance require removal.
Naturally it is good to see new life on the street in these times, but certainly not at the expense of good design or good planning standards.
rumpelstiltskin wrote:And Costa coffee is revolting.
Meh, mild and anodyne yes, but hardly revolting.
Much more encouraging is The Trinity Barber's recent makeover over on Trinity Street. An excellent exercise in polished restraint, the works involved the replacement of an expansive facia and an all-singing coat of canary yellow paint on their Art Nouveau shopfront with an altogether more stylish affair.
The diminutive smart steel lettering without any form of lighting paraphernalia is effortlessly cool.
I'm not entirely sure what's going on there between the fascia and the cornice - a former alteration of some kind.
Beautiful job.
The Trinity Barber is one of three unified shopfronts on a late 19th century building which could benefit from similar treatment.
(incidentally, the barber upstairs has stunning views down St. Andrew Street and South William Street towards Powerscourt Townhouse).
More of this please.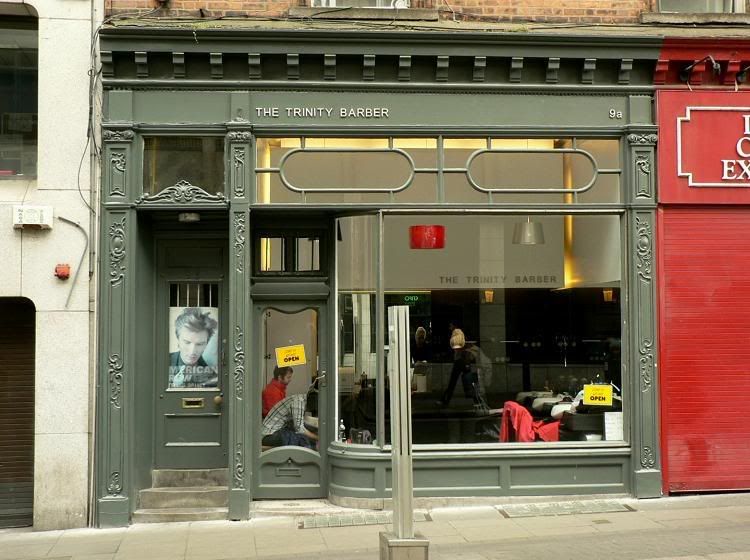 (if anyone's in there soon, tell them to take the plastic wrapping off the new light shades!)