http://www.ireland.com/newspaper/property/2006/0427/216653315RPBALLYBRITTAS.html
WINNING FORMULA OF HIGH SPEC AT LOW COST
Fiona Tyrrell 27/04/06

Housing Trends
Just because no one has heard of Ballybrittas doesn't mean it doesn't deserve good quality, claims developer Mick Cox whose high-spec development in the small Co Laois village was an instant sell-out earlier this month.

Young buyers and retired couples queued from 4am to put their deposit down for one of 77 homes at Graigavern Lodge, Ballybrittas located half way between Monasterevin and Portarlington in Co Laois.
Prices started at €259,000 for three-bedroom semi-detached houses with 119sq m (1,280sq ft) of living space and went up to €420,000 for 175sq m (1,885sq ft) four/five-bed homes.

With a cancellation list of 70 names, John Dunne of Hume Auctioneers says they could have sold the development twice over.

The secret of the success of the scheme? "Very good quality at a competitive price," said the developer, Mick Cox of Boderg, who has been building in London for years. "Just because the houses are not €750,000 houses doesn't mean they can't have a good quality fit-out," he explains.

People don't want cheap and cheerful anymore and are fed up with small, high density three-bed semis with the creaking door, no storage space and low quality, according to Cox. "We recognise that people are not just buying a house. They are making the biggest purchase of their lives and you have to get it right."

The UK residential sector is streets ahead of Ireland in terms of finish and quality, according to Cox. Cox transferred some elements of the UK sector to Ireland for the scheme. Site foremen were brought in from the UK. A quality control team flew over once a week to oversee the finish of the houses.

The Irish idea of getting nothing but the house and doing the rest yourself is unheard of in the UK, according to Cox.

"The demand is so strong in Ireland that a lot of developers have taken their eye off the ball in terms of quality fit-out and finish." The spec at Graigavern Lodge is above average; particularity for homes in the wider commuter belt.
……………..

A big player in the UK scene, Cox's UK company Hollybrook builds around 600 houses and apartments a year in the greater London area, making it the fourth largest developer in London.
………
Cox, who is originally from Rooskey in Co Roscommon and his wife Pauline, from Mountmellick, Co Laois, purchased the site in Ballybrittas just over a year ago.
After the success of the Ballybrittas scheme, Cox is scouting around for more suitable sites and plans to become a big player in the Irish market.

© The Irish Times
~~~~~~~~~~~~~~~~~
Well this is just what we need to reverse our chronic sprawl and car-dependency!
We've realised that the only sustainable way forward is to create compact high-quality urban areas well-served by public transport, but now Mick Cox is going to come here and start building estates of luxury homes 50 miles from Dublin from which the only means of transport is the car!
Dissapointed in the Irish Times' tone of reportage here!
Old Master
Posts: 1509
Joined: Fri Dec 12, 2003 9:27 pm
Location: Dublin
---
Still in the slow land


THE Edgeworthstown bypass opened yesterday with little fanfare. Quite right too. Too often in the recent past, governments, and not only the Fianna Fail-PD coalition, cackled like a hen laying an egg every time they unveiled a few kilometres of motorway and dual carriageway.

It was scandalous that these roads were constructed in that piecemeal fashion, and degrading that politicians boasted of achievements which were trifling by comparison with the progress made in poorer countries like Portugal.

Our motorway programme should have started 30 years ago. An entire network should have been completed 15 years ago at the very latest. Instead, even now, even after 12 years of the Celtic Tiger, we proceed at a snail's pace.

The phrase is singularly appropriate here. A campaign to save a rare snail held up the Kildare bypass. A campaign to save an insignificant castle placed the M50 in its present weird condition, neither finished nor unfinished.

Projects that in other countries whizz along are delayed unconscionably in Ireland by antics like the Carrickmines Castle affair.

But it is not enough to blame factors like these. A government that really wants things done will get them done. But the present Government has consistently underspent on the capital side of the Budget. Planning and vision both call for a different style.
Todays editorial in the Irish Independent
Whilst I agree with much of the above the presumption that infrastructure can be steamrolled through without heed to due process is not strictly true it is worth remembering that the Kildare Bypass project was stopped by the European Commission and Carrickmines was entirely avoidable.
PVC King
---
Dear oh dear - from Dundalk's 'The Argus' newspaper. Offers over €775,000 please.
Online version here:
http://www.mallonbest.com/house_details.asp?house_id=372&house_type=3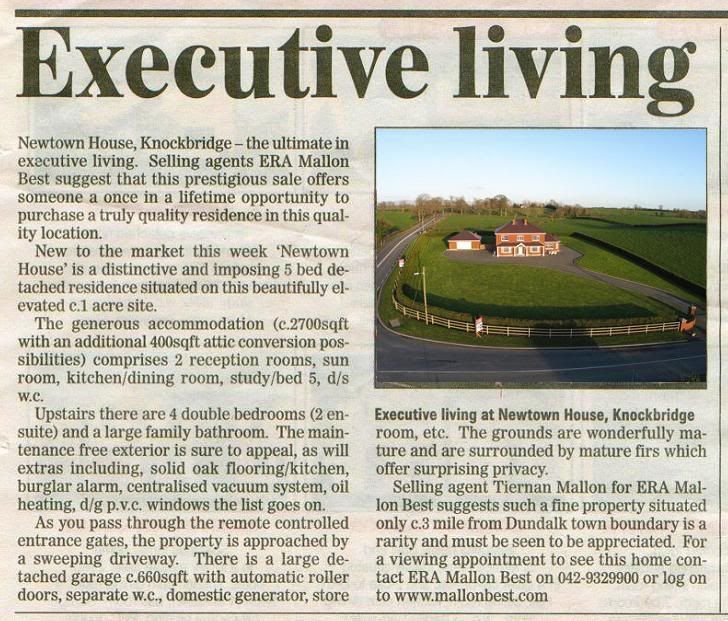 Old Master
Posts: 4579
Joined: Tue Oct 15, 2002 10:24 am
Location: Ireland
---
Am I right in thinking that the Irish Times property supplement has dropped the planning section at the back?
Posts: 1708
Joined: Tue Mar 06, 2001 12:00 am
Location: Dublin
---
Haven't seen it for a while anyway
Member
Posts: 34
Joined: Fri Nov 28, 2008 4:07 pm
---
Lad in the snap at top of the page had it right when he said "a lot of developers have taken their eye off the ball" - well, taken
ever
so slightly out of context... how times have so drastically changed...
Senior Member
Posts: 993
Joined: Tue Dec 28, 2004 9:14 pm
Location: NAMA HQ
---
I just found this topic (being a bit aged, as it is) and read with delight. Well, irritation, disbelief and delight.

The article quoted in original post is stunning, but I particularly like the one few posts above - the executive living joke. I constantly had to look from the text to the picture to check if that is the house they are actually talking about.
I'm amazed by the vocabulary used to describe this overpriced, exposed, enclosed by public road, awful piece of junk:
ultimate, prestigious, lifetime opportunity, truly quality, residence, distinctive, imposing, beautifully, generous, possibilities, large, maintenance free, appeal, extras, wonderfully, surprising privacy (?!!), fine, rarity, appreciated - all in such a short note!

There is a similarity in this thread to the 'architecture in words' one and they are both, I think, more important than they appear. Quality of writing about architecture - and housing in general - in Ireland is very poor and is to some extent responsible for the things that have gone wrong here.
Member
Posts: 19
Joined: Tue Aug 12, 2008 7:54 am
Location: Cork
---
---